The Mindful Coach: Seven Roles for Facilitating Leader Development, 2nd, New and Revised Edition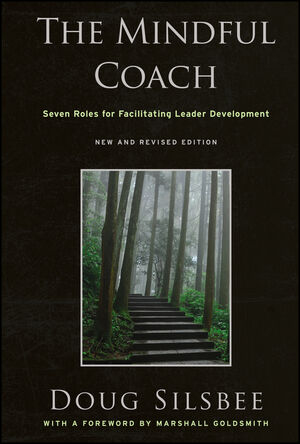 The Mindful Coach: Seven Roles for Facilitating Leader Development, 2nd, New and Revised Edition
ISBN: 978-0-470-54866-0
Feb 2010, Jossey-Bass
288 pages
Description
Praise for The Mindful Coach
"Success in business is predicated on eliciting the best from people. The Mindful Coach clearly articulates the essentials of how to do this. As someone who believes deeply in the potential of all people, I found Silsbee's approach both practical and profound. This is a must-read for everyone concerned with people and learning."—Arthur M. Blank, philanthropist; cofounder, The Home Depot; and owner and CEO, Atlanta Falcons
"The Mindful Coach is not just another coaching model. It is a frame of reference for anyone involved in developing people. This highly readable book should serve as a reference for anyone genuinely concerned about helping others. It has had a significant impact on the way I approach coaching and developing others."—James N. Bassett, M.E?d., employee development, Institute of Nuclear Power Operations
"The Mindful Coach digs deeply, offering a lens and structure for understanding the intimate and necessary connection between relationships and human development. No other skill set, knowledge, or awareness is more important to educators, leaders, and managers than what is presented in this precious volume."—Robert C. Pianta, Ph.D., dean, Curry School of Education, University of ?Virginia
"This revised edition provides the structure for presence, through which new solutions become available. This book itself is a practice in the art of 'becoming,' while providing a clear action framework for powerfully engaging others with their own development. Silsbee has provided a gift to leaders, teachers, and coaches!"—Connie Maltbie-Shulas, manager, V-22 Training Systems, Boeing
"This book has broad appeal not only for coaches, but also for managers, executives, and consultants. Leaders of all kinds can benefit from Silsbee's clear and caring process for bringing out the best in people. This is a must-read book for anyone who wants to jump-start themselves and others on their journey to their potential."—Diana Whitney, Ph.D., author, The Power of Appreciative Inquiry
"This is the guide for leaders committed to helping others learn. The seven roles will help any leader facilitate more meaningful development conversations. This new edition engaged me instantly, with immediate applications in key relationships."—Darelyn "DJ" Mitsch, MCC, president, The Pyramid Resource Group; former president, The International Coach Federation
Exercises, Practices, Exhibits, and Figures.
Foreword.
Preface to the New and Revised Edition.
Introduction: What Is Coaching?
A Working Definition of Coaching.
Distinguishing Coaching from Other Aspects of Professional Relationships.
Contexts for Coaching: Four Dynamics.
Chapter Summary.
1 The Being of Coaching: Mindful Service.
Placing Oneself in Service.
Mindfulness and Self-Awareness.
Mindfulness and the Three Levels of Experience.
Attachments and Aversions.
Conditioning and Habits That Block Mindfulness.
Coaching Habits.
Chapter Summary.
2 Cultivating Mindfulness.
Self-Observation.
Practices for Cultivating Mindfulness.
Coach as Learner.
Accountability in Service.
Chapter Summary.
3 The Seven Voices of the Coach.
Learning the Voices.
The Individual Roles or Voices.
The Voices and Their Aspects
Placing the Voices in Context.
Chapter Summary.
4 The Master.
Maintaining Self-Awareness.
Listening with Focus and Presence.
Modeling Learning and Growth.
Embracing the Client with Compassion and Respect.
Choosing Which of the Operational Voices to Use at a Given Time.
The Mindful Master.
Chapter Summary.
5 The Partner.
Establishing and Honoring an Explicit Structure for the Coaching Relationship.
Helping the Client Articulate Specific Coaching Outcomes.
Offering Choice Points and Making Joint Decisions About the Coaching Process.
The Mindful Partner.
Chapter Summary.
6 The Investigator.
Asking Questions That Shift the Client's Understanding of the Situation.
Helping the Client to Articulate Desired Outcomes.
Asking the Client to Generate Courses of Action.
The Mindful Investigator.
Chapter Summary.
7 The Reflector.
Providing Direct and Honest Feedback.
Directing the Client's Attention Toward His or Her Capabilities and Potential.
Encouraging Self-Observation and Reflection.
The Mindful Reflector.
Chapter Summary.
8 The Teacher.
Providing New Distinctions, Information, and Knowledge.
Challenging and Stimulating the Client's Thinking Process.
Explaining the Coaching Process, Theory, and Models Being Used.
The Mindful Teacher.
Chapter Summary.
9 The Guide.
Encouraging the Client to Take Some Action of the Client's Choosing.
Offering Options for Action.
Recommending Specific Courses of Action.
The Mindful Guide.
Chapter Summary.
10 The Contractor.
Establishing Clear Agreements About Actions.
Exploring and Resolving Client Doubts and Hesitations.
Following Up with the Client About Agreed-On Actions.
The Mindful Contractor.
Chapter Summary.
11 Self-Development Strategies for the Coach.
Self-Assessment Tools.
Self-Observation as a Coach.
Navigating the Model.
Learning from Your Reflection.
Reviewing Audio Recordings.
Obtaining and Listening to Client Feedback.
Planning Your Own Development.
Chapter Summary.
Epilogue: Coaching as a Journey Toward Mastery.
About Fluidity and Intuition.
Practice as Path.
Selected Reading.
Notes.
Acknowledgments.
The Author.
Index.