The Minding Organization: Bring the Future to the Present and Turn Creative Ideas into Business Solutions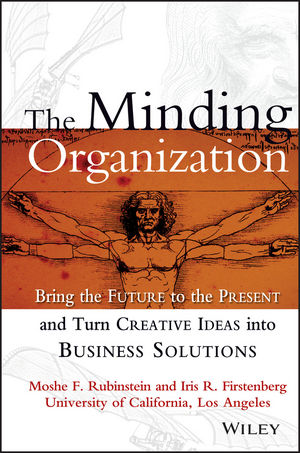 The Minding Organization: Bring the Future to the Present and Turn Creative Ideas into Business Solutions
ISBN: 978-0-471-34781-1
Aug 1999
224 pages
Product not available for purchase
Description
A few years ago, Cementos Mexicanos (Cemex), the world's third-largest cement company, was struggling. More than two-thirds of their deliveries were late, customer complaints were numerous, and new orders were dwindling sharply. Then Cemex executives realized they needed to get a glimpse of the future. They saw themselves responding to customer needs as each need emerged. They visualized successful deliveries with orders placed only an hour in advance. Their entire organization became involved in the process of adapting to unplanned occurrences. By embracing the uncertainty and chaos of their business and a company-wide commitment to excellence, Cemex was completely transformed in a matter of months.

This is a remarkable example of minding: identifying a purpose, developing a team, and acting to accomplish that purpose. Achieving this kind of high-level connection is what The Minding Organization is all about. This book will show you how to transform your organization into one that behaves like a living organism-alive with ideas and instantly able to adapt for survival in an increasingly complex, unpredictable global business world.

A minding organization coordinates its efforts as a single being; the right hand literally knows what the left hand is doing. The minding process will help you save precious work time, avoid costly mistakes, build incentives for speed, and find creative solutions when unpredictable problems arise.

Creating a minding organization will teach you how to:
* Operate on the edge of chaos, embracing uncertainty as a strategy
* Bring insights up front that would normally be learned much later
* Distribute decision-making in such a way that everyone has the responsibility to be right and the authority to be wrong
* Create an environment in which the human spirit can soar

The Minding Organization will show you how less planning and more adapting makes for a competitive advantage, as you learn to cope with new, ever-changing conditions and innovate faster than your competitors.

Praise for The Minding Organization

Professor Rubinstein is one of the foremost experts on creativity within organizations. The Minding Organization is a well-written guide . . . [that] is must reading for anyone responsible for minding the organization.-Norman R. Augustine, Chairman of the Executive Committee, Lockheed Martin

The authors make intuitive good sense and give strategic thinkers the tools they need to turn perceived liabilities-chaos, disorder, unpredictable change-into assets. I've made it must reading for everyone in my organization. The only people I haven't recommended it to are my competitors.-Timothy W. Hannemann, Executive Vice President and General Manager, TRW

This book gives an accessible view of the organization as a living, connected organism. Drs. Rubinstein and Firstenberg have shared an insightful and elegant concept of what successful twenty-first-century organizations MUST be like if they want to survive and grow. We are putting the ideas in this book to use now!-Michael E. Allgeier, Division Vice President, Sensors and Electronics Segment, Raytheon

Rubinstein is as ebullient in print as he is in person. The Minding Organization transcends time and theory, enabling the practice of innovation as an everyday occurrence.-Stephan Argent, Creative Director, iCandy Inc.

In this book you'll find out how to open up a world of opportunity by 'bringing the future to the present'-visualizing the ideal end state and working backwards. You'll see how many obstacles can be eliminated, making the unachievable achievable.-Tom Williams, Vice President, Long Range Strike Business Area, Northrop Grumman Corporation
The Minding Organization.

Transforming the Organization into an Organism.

Adapting and Planning.

Structure, Creativity, and Error: The Foundations of the Minding Organization.

Chaos to Order to Chaos: Embracing Uncertainty.

Expanding the Imagination: Frames as Filters.

Kniht Backwards: Visit the Future in the Present.

The New Leadership: Operating on the Edge of Chaos.

The Minding Organization in Action.

Epilogue.

Appendix.

Sources.

Index.

About the Authors.