The Missing Links: America's Greatest Lost Golf Courses & Holes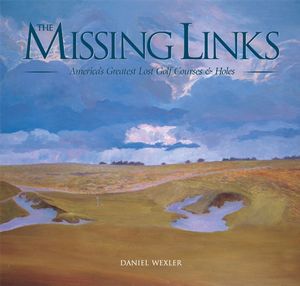 The Missing Links: America's Greatest Lost Golf Courses & Holes
ISBN: 978-1-886-94760-3
Jun 2000
224 pages
Product not available for purchase
Description
While it's hard to imagine that famed Pebble Beach Golf Links would ever be dug up and turned into a residential community, similar fates have happened to other great courses in the past. Thankfully, due to the exhaustive research of Daniel Wexler, the full details on 27 of these exceptional layouts can be found in The Missing Links: America's Greatest Lost Golf Courses & Holes.

Through the use of period photographs and detailed maps, Wexler takes the reader on a hole-by-hole guided tour of some of the most famous courses—designed by some of America's most famous architects—that no longer exist. Alister MacKenzie's Sharp Park GC in California (washed away in a Pacific storm), William Langford's Key West GC in Florida (destroyed by a hurricane), and Charles Blair Macdonald's Lido Club (sold to developers during the Depression) are but three of the classic courses that can be "played" once more.
Introduction.
AMERICA'S GREATEST LOST GOLF COURSES.
Charles Banks
Westhampton CC (Oneck) - Westhampton, NY
Billy Bell & George Thomas
El Caballero CC - Tarzana, CA
Also by Billy Bell.
Charles H. Alison
Timber Point GC - Great River, NY
Devereux Emmet
Meadowbrook Hunt Club - Westbury, NY
Pomonok CC - Flushing, NY
Also by Devereux Emmet.
William Flynn
Boca Raton Resort & Club (South) - Boca Raton, FL
Mill Road Farm CC - Lake Forest, IL
Yorktown GC - Yorktown, VA
Also by William Flynn.
William Langford
Key West GC - Key West, FL.
Charles Blair Macdonald & Seth Raynor
Deepdale GC - Great Neck, NY
Gibson Island CC - Gibson Island, MD
The Lido GC - Lido Beach, NY
The Links GC - Roslyn, NY
Shinnecock Hills GC - Southampton, NY
Also by Charles Blair Macdonald.
Dr. Alister MacKenzie
Bayside Links - Bayside, NY
Sharp Park GC - Pacifica, CA.
Seth Raynor
Oakland GC - Bayside, NY
Also by Seth Raynor.
Donald Ross
Englewood GC - Englewood, NJ
Pinehurst Resort & CC (Number Four) - Pinehurst, NC
Also by Donald Ross.
George C. Thomas
Fox Hills GC - Culver City, CA
Also by George C. Thomas.
A. W. Tillinghast
Beaver Tail GC - Jamestown, RI
Fresh Meadow CC - Flushing, NY
Norwood CC - West Long Branch, NJ
St. Albans CC - St. Albans, NY
St Petersburg CC - St Petersburg, FL
Also by A.W. Tillinghast.
Captain H.C. Tippett
Montauk Downs GC - Montauk, NY.
Willie Watson & Sam Whiting
The Olympic Club (Ocean) - San Francisco, CA.
NINE ADDITIONAL LOST COURSES OF HISTORIC NOTE.
APPENDIXES.
A) America's Greatest Lost Holes, etc.
B) Metropolitan area maps.