The Modern Endowment Allocation Model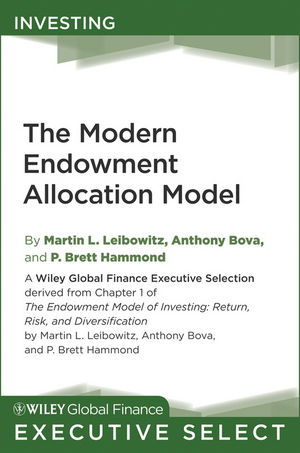 The Modern Endowment Allocation Model
ISBN: 978-1-118-00638-2 September 2011 19 Pages
Description
The authors of The Endowment Model of Investing provide an overview in this chapter of the traditional versus modern methods of endowment investing as a basis for understanding diversification and managing equities for endowments today. It is meant as a brief introduction to the topic and book. Discussed is how the tradition of the long term policy portfolio with relatively fixed asset categories was at one point ubiquitous in the endowment and foundation World but how now with increased market volatility and the appearance of attractive new asset classes, this tradition of overly rigid allocations and fixed asset buckets is questioned and put into old news. The late Peter L. Bernstein was one of the earliest and most articulate authors arguing for a rethinking of the policy portfolio concept.

This chapter includes topics on:
Institutions working in a more flexible fashion with allocations
wider allocation bands
using assets that do not necessarily fit into the traditional categories
Preface.
Acknowledgments.
PART ONE Alpha/Beta Building Blocks of Portfolio Management.
Chapter 1 The Modern Endowment Allocation Model.
Truly Long-Term Orientation.
Novel Asset Classes and Special Access.
Remaking the Investment Manager Relationship.
More Market-Sensitive Allocations.
Asset Allocation.
Beta-Based Risk and Return: The Sigma and Beta Lines.
Notes.
References.
Chapter 2 Structural Betas and Alphas.
Finding the Beta in the Black Box.
The Structural Beta.
Return Components of Asset Classes.
Risk Components of Asset Classes.
Portfolio Beta Values.
Modern Allocations with Alternatives.
The Extreme Allocation.
Return Components at the Portfolio Level.
Comparison of Portfolios' Risks and Returns.
Implications for Institutional Portfolios.
Beta as the Key Risk Factor.
Notes.
PART TWO Beta-Based Asset Allocation.
Chapter 3 Beyond Diversification: Dragon Risk.
The Nature of Diversification.
Dragon Risk.
A Diversification Model.
Diversification in Sources of Return.
Potential Diversification Costs.
Overdiversification versus Dragon Risk.
Chapter 4 Reverse Asset Allocation Using Alpha Cores.
Simplifying the Portfolio Optimization Process.
The Alpha Core.
The Swing Assets.
The Fixed Alpha Core Segment.
Generality of the Alpha Core Representation.
Varying the Core Parameters.
The Cash Line Segment.
The Bond Bridge.
The Equity Extension Segment.
The Three-Segment Frontier.
The Frontier Slope.
The Uplifted Frontier.
Channel Risk.
Risk Mitigation and Asset Class Inclusion.
Conclusion.
Appendix.
References.
Chapter 5 The Efficient Frontier with Bonds as the Risk-Free Base.
The Equity Risk Premium.
Bond-Relative Alphas and Betas.
Risk Analysis.
Portfolio Level Analysis.
The Alpha Core.
Efficient Frontier Analysis.
The Alpha Effect.
Appendix.
Chapter 6 Expanding the Alpha Core.
Inherent Constraints on Alternative Assets.
Building an Alpha Core.
Maximum-Return Alpha Cores.
The Flower Diagram.
Expanding the Alpha Core.
Moving beyond Beta Domination.
Dual Active-Allocation Alphas.
Conclusion.
Chapter 7 Alpha-Driven Efficient Frontiers.
The Efficient Frontier in Alpha Space.
Increasing the Alpha Core Percentage.
Conclusion.
Chapter 8 The Societal Efficient Frontier.
Standard Efficient Frontiers.
The Swing Asset Frontier.
The Concept of a Societal Frontier.
Total Betas and the Diversification Paradox.
Dragon Risk Constraints and Climbing the Alpha Wall.
A Societal Frontier of Quantum Risk States.
Active Alphas and Other Risk-and-Return Tradeoffs.
Societal Gaps and Opportunities.
References.
Chapter 9 Equilibration.
Beta Domination and Constrained Alternatives.
Alpha Decay under Beta Domination.
Realized Returns versus Going-Forward Alphas.
Sharpe Ratio Decay.
Sequential Alpha Erosion.
Equilibration across the Societal Frontier.
References.
Chapter 10 Shortfall Risks and Efficient Frontiers.
Importance of Shortfall Risk in Portfolios.
Efficient Frontiers Using Fixed Alpha Cores.
Shortfall Probabilities.
Shortfall Regions in Risk-and-Return Space.
Shortfalls Relative to the Risk-Free Baseline.
Shortfall Probabilities along the Efficient Frontier.
Multiple Horizon Comparisons.
Appendix.
References.
Chapter 11 Convergence of Risks.
End-of-Period Shortfall Probabilities.
Within-Period Stop-Loss Probabilities.
High Watermark Shortfalls.
Changing the Thresholds and Horizons.
Shortfall Probabilities along the Efficient Frontier.
Acceptable Risk-and-Return Regions.
Conclusion.
References.
Chapter 12 Active Alphas: Bound, Portable, and Integrated.
Allocation Alphas.
Active Alphas.
Portable Alphas.
Bound-Active Alphas.
Integrated Alphas.
Risk Budgets.
Expanding the Active Universe.
Shifting Policy Portfolios.
Conclusion.
References.
Chapter 13 Beta-Based Performance Analysis.
Active versus Passive Alphas.
Decomposition of Benchmark Return.
Relative Return Analysis.
Actives Alphas without Reweighting.
Overweighting Active Alphas.
Adding a New Asset Class.
Beta Neutralization.
Analyzing Historical Performance.
Conclusion.
Chapter 14 Real Return Tents and Equity Durations.
P/E Ratios and Nominal Interest Rates.
P/E Ratios and Equity Duration.
Inflation versus Real Rate Effects.
Spread-Driven DDM's.
P/E Ratios versus Inflation.
P/E Ratios versus Real Rates.
Conclusion.
References.
PART THREE Theoretical and Empirical Stress Betas.
Chapter 15 Stress Betas and Correlation Tightening.
Portfolio Convexity Effects.
Stress Correlations of 1.
Residual Volatility Constant.
Varying Residual Volatilities.
Conclusion.
Appendix.
References.
Chapter 16 Stress Risks within Asset and Surplus Frameworks.
Risk Life Cycles.
Stress Times as Determinant of Risk Tolerance.
Correlation Tightening Under Stress.
Divergence under Stress.
Short Term Risk Reduction and Long-Term Returns.
Normal Correlation-Based Betas.
Beta Response Curves.
Stress Betas.
The Surplus Framework.
Surplus Beta Curves.
Partial Liability Hedge.
Full Liability Hedge.
De-Risking and Re-Risking.
Maintaining a Fund's Return-Seeking Potential.
Diversification Alphas.
Active Alphas.
Double Alphas and Portability.
References.
Chapter 17 Stress Beta Pathways.
An Empirical Example.
A Minimum Residual Volatility Model.
Implied Asset Volatility.
Stress Betas at the Asset Level.
Short Term Vulnerability of Diversified Portfolios.
Beta Pathways for Individual Asset Classes.
Appendix.
Chapter 18 The Endowment Model: Theory and Experience.
Theoretical Beta-Based Risks.
Historical Risk Characteristics.
Alpha and Beta Returns.
Conclusion.
Chapter 19 Diversification Performance: Under Stress (2008) and over the Long Term (1993 through 2007).
A Semi-Diversified Portfolio.
Volatilities and Volatility Ratios.
Individual and Portfolio Correlations with U.S. Equity.
Historical Betas.
Beta-Based and Alpha Returns.
Stress Beta Theory.
2008 Results and Stress Betas.
Conclusion.
PART FOUR Asset Allocation and Return Thresholds.
Chapter 20 Asset Allocation and Return Thresholds in a Beta World.
Percentiles in Return and Beta Space.
The Percentile Fan.
Minimum and Maximum Betas for Return Targets.
The Characteristic Probability of Exceeding the Risk-Free Rate.
Multiyear Horizons.
Beta Regimes.
Shortfall Lines.
Alpha Cores and Stress Betas.
Conclusion.
Appendix.
References.
Chapter 21 Key Takeaways.
About the Authors.
Index.