The Mummy at the Dining Room Table: Eminent Therapists Reveal Their Most Unusual Cases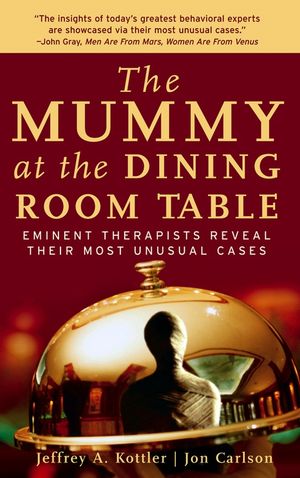 The Mummy at the Dining Room Table: Eminent Therapists Reveal Their Most Unusual Cases
ISBN: 978-0-787-97804-4
Sep 2015, Jossey-Bass
336 pages
Description
A wife pretends to hang herself in the basement so she can time how long it will be before her husband comes to rescue her. . . .a woman whose dead aunt was made into a mummy so the family could better grieve her passing and on occasion dine with her at family gatherings . . . a man wants his nose cut off to escape an annoying smell that haunts him . . . a teenage boy would only come to therapy if he could bring his pet snake
These and other fascinating and revealing stories are told by some of the most famous therapists in the world. Collected in this extraordinary book, well known practitioners recount the most memorable case histories of their illustrious careers. Engaging and surprising stories of human behavior are dramatically and often humorously portrayed. Each chapter gives a behind-the-scenes look at how therapists work with clients whose problems and behaviors aren't found in standard psychology textbooks. The book also shows how these eminent therapists often cure these apparently intractable problems and learn something about themselves in the process.
Introduction.
1. Jeffrey A. Kottler: The Man Who Wanted His Nose Cut Off.
2. Jon Carlson: The Mummy at the Dining Room Table.
3. Frank Pittman: Buzzy Bee's Oral Fixation.
4. Arnold Lazarus: An Oedipal Dilemma.
5. William Glasser: The Urge to Eat from Garbage Cans.
6. Domeena Renshaw: The Penis That Needed Permission from the Church.
7. Violet Oaklander: Therapy with a Gopher Snake and a Horned Lizard.
8. Harville Hendrix: Getting Rid of Old Junk.
9. Scott Miller: The Terminator Finds Himself on a Mental Ward.
10. Insoo Kim Berg: They Learned to Live with Ghosts.
11. Michael Yapko: The Woman Who Should Have Been Depressed.
12. Albert Ellis: The Woman Who Hated Everyone and Everything.
13. Bradford Keeney: The Medicine Man Who Never Had a Vision.
14. Susan Johnson: The Woman Who Hanged Herself to Check Her Husband's Response Time.
15. Ernest Rossi: The Hip-Nose Doctor Finds the Michael Jackson Tickets.
16. Arthur Freeman: The Lawyer from Hell.
17. Robert A. Neimeyer: Reconstructing the Jigsaw Puzzle of a Meter Man's Memory.
18. Pat Love: An Emergency Hypnosis to Solve the Crime at the Burger Joint.
19. Samuel Gladding: Beauty and the Beast.
20. Gay Hendricks: The Lie That Hid in His Back.
21. Howard Kirschenbaum: The Client Who Wanted His Therapist to Be Someone Else.
22. Joel Bergman: The Bride Wore a Tuxedo, the Groom Wore a Gown.
23. David Scharff: Recovering from Recovered Memories.
24. Howard Rosenthal: Panic Disorder from Sewer Grates, Amusement Parks, and Sex with Ministers.
25. Jay Haley: The Eighty-Two-Year-Old Prostitute.
26. Stephen Lankton: Saved by a Ghost.
27. James F. T. Bugental: He'll Always Be Black.
28. Michael Mahoney: "I Wouldn't Mind Being That Guy in the Mirror".
29. Laura S. Brown: The Three-Year-Old Who Was an Alcoholic.
30. Donald Meichenbaum: Every Parent's Worst Nightmare.
31. Peggy Papp: The Third Sexual Identity.
32. Len Sperry: The Bird Colonel Who Turned into an Elephant.
The Authors.