The Myth and Ritual Theory: An Anthology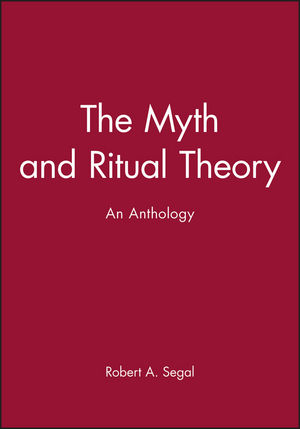 The Myth and Ritual Theory: An Anthology
ISBN: 978-0-631-20680-4 February 1998 Wiley-Blackwell 488 Pages
Download Product Flyer
Download Product Flyer
Download Product Flyer is to download PDF in new tab. This is a dummy description. Download Product Flyer is to download PDF in new tab. This is a dummy description. Download Product Flyer is to download PDF in new tab. This is a dummy description. Download Product Flyer is to download PDF in new tab. This is a dummy description.
Description
In this collection, Robert Segal, one of the leading interpreters of theories of myth, seeks to provide a comprehensive analysis of the myth and ritual theory.
Table of contents
Acknowledgements.
Introduction.
Part I: Original Formulation of the Theory: .
1. Lectures on the Religion of the Semites: William Robertson Smith.
Part II: The Development of Theory: .
2. The Golden Bough: James Frazer.
3. Themis: Jane Harrison.
4. The Myth and Ritual Pattern of the Ancient East: S. H. Hooke.
Part III: Application of Theory to the Ancient World: .
5. Excursus on the Ritual Forms Preserved in Greek Tragedy: Gilbert Murray.
6. A Ritual Basis for Hesiod's Theogony.
7. New Year Festivals: Ivan Engnell.
Part IV: Application of the Theory Worldwide:.
8. The Life-giving Myth: A. M. Hocart.
9. The Beginnings of Religion: E. O. James.
10. Myth in Primitive Psychology: Bronislaw Malinowski.
11. Myth and Reality: Mircea Eliade.
Part V: Application of the Theory to Literature:.
12. The Hero of Tradition: Lord Raglan.
13. From Ritual to Romance: Jessie L. Weston.
14. The Archetypes of Literature: Northrop Frye.
15. The Ritual View of Myth and the Mythic: Stanley Edgar Hyman.
16. The Idea of a Theater: Francis Fergusson.
17. The Myth and Ritual Approach to Shakespearean Tragedy: Herbert Weisinger.
18. What is Myth?: René Girard.
Part VI: Revisions of the Theory: .
19. Thespis: Theodor H. Gaster.
20. Myths and Rituals: A General Theory: Clyde Kluckhohn.
21. Homo Necans: Walter Burkert.
22. Structure and Dialectics: Claude Lévi-Strauss.
Part VII: Evaluations of the Theory:.
23. The Dramas and Dramatic Dances of Non-European Races: William Ridgeway.
24. Introduction to Apollodorus, The Library: James Frazer.
25. The Evidence of Divine Kings in Greece: H. J. Rose.
26. The Myth and Ritual Position Critically Examined: S. G. F. Brandon.
27. The Myth-Ritual Theory: William Bascom.
28. The Ritual Theory of Myth: Joseph Fontenrose.
29. Prospects: H. S. Versnel.
Further Reading.
Index.
Reviews
"Segal has tracked down those hard-to-locate gems from the classics of the study of religion, literature, folklore and ethnology, and has put them into historical and analytic perspective. There is nothing like it anywhere. A 'must' for the classroom."
Ivan Strenski, University of California, Riverside
<!--end-->"Twenty-nine selections plus an expert's introduction to a central theme in the modern history of religions. I look forward to teaching with it and urge its acquisition by classicists and historians of myth and religion." William M. Calder III, University of Illinois

"This is a monumental collection of essays and abstracts of texts, all concerned with a most classical theme in symbolic studies - the debate on the relation (if any) between ritual and myth.....There is a repository of knowledge in The myth and ritual theory - ideas to be picked up, developed and led onto new paths connecting them with temporary studies of human symbolism in terms of imagery and discourse." Goran Aijmer, University of Gothenburg

"'Meaty' could repeatedly characterize this valuable anthology. It is meaty because Robert Segal offers a wide range of texts in generous excerpts. It is meaty because Segal offers not only texts from the traditional theorists but also generous selections from both literary critics and classicists. It is meaty because Segal does not confine himself to an information-packed 'Introduction'; he also offers informed and informing introductions to each excerpt. ... On these bases alone, anyone with an interest in myth and ritual will surely thumb this book to tatters." C. Robert Phillips III, Lehigh University

"This is an impressive and illuminating book - ambitiously conceived, methodically organized, and especially well designed for purposes of either historical understanding or theoretical comparison. Segal's talents as both excavator and critic combine opportunely to make The Myth and Ritual Theory a near indispensable text, not only as a sourcebook for students, but as a starting place for further inquiry into one of the most enduring, and engaging, interpretive debates of modern times." Journal of the American Academy of Religion

"The Myth and Ritual Theory, edited by Robert Segal, is genuinely indispensable for teachers of myth who prefer to center their approach in traditional materials. For those who have grown weary of putting on library reserve hard to find or out of print works by classic scholars in the field of myth and ritual, this book is a god(s)send." Nova Religio
Features
Provides a comprehensive, interdisciplinary overview of the topic.

Offers a thorough introduction and analysis of each theory.

Written by the acknowledged leading authority on the subject.