The Myth of Work-Life Balance: The Challenge of Our Time for Men, Women and Societies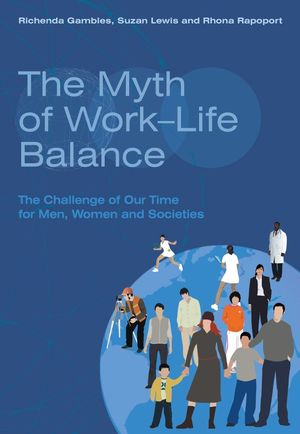 The Myth of Work-Life Balance: The Challenge of Our Time for Men, Women and Societies
ISBN: 978-0-470-71326-6 May 2008 134 Pages
Description
Many regard the ways in which paid work can be combined or 'balanced' with other parts of life as an individual concern and a small, rather self-indulgent problem in today's world. Some feel that worrying about a lack of time or energy for family relationships or friendships is a luxury or secondary issue when compared with economic growth or development. In the business world and among many Governments around the world, the importance of paid work and the primacy of economic competitiveness, whatever the personal costs, is almost accepted wisdom. Profits and short term efficiency gains are often placed before social issues of care or human dignity.

But what about the impact this has on men and women's well being, or the long-term sustainability of people, families, society or even the economy? Drawing from interviews and group meetings in seven diverse countries – India, Japan, the Netherlands, Norway, South Africa, the UK and USA – this book explores the multiple difficulties in combining paid work with other parts of life and the frustrations people experience in diverse settings. There is a myth that 'work-life balance' can be achieved through quick fixes rather than challenging the place of paid work in people's lives and the way work actually gets done. As well as exploring contemporary problems, this book attempts to seed hope and new ways of thinking about one of the key challenges of our time.
About the Authors.
Foreword by Robert B. Reich.
Foreword by Tripti P. Desai.
Acknowledgements.
Prologue Global Stories from the Front Line.
PART I: Setting the Scene.
Chapter 1: A Pivotal Challenge in the Global Context.
Chapter 2: Evolutions and Developments in Seven Countries.
Chapter 3: Thinking about Change at Multiple Levels.
PART II: Making the Connections.
Chapter 4: The Invasiveness of Paid Work.
Chapter 5: Care and Connections: Families, Communities, Friendships and Care of the Self.
Chapter 6: Reciprocal Relationships Between Men and Women: A Critical Issue.
PART III: Moving Forwards.
Chapter 7: Visions and Strategies for Change.
References.
Index.
" … essentially an extended report on a research project carried out by the authors." (
Accounting Technician
, May 2006)
"...policy-makers, students and trade unionists...will find original material and ideas in this book." (People Management, May 2006)
"...academics who have worked extensively in the field..." (Peoplemanagement.co.uk, June 2006)
 "...original material and ideas in this book..." (Peoplemanagement.co.uk, June 2006)
"a well-written, honest overview that challenges many current Work-Life policy debates… It succeeds in providing many avenues for thought." (Work, Employment and Society, Vol. 21, Issue 3)