The Naked CEO: The Truth You Need to Build a Big Life Custom for Macquarie University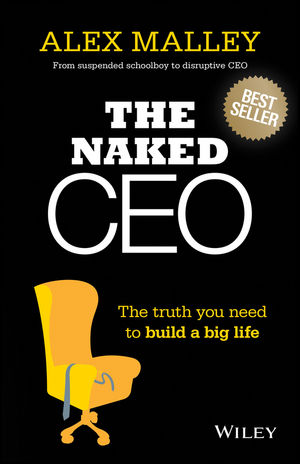 The Naked CEO: The Truth You Need to Build a Big Life Custom for Macquarie University
ISBN: 978-0-730-33004-2
Dec 2014, Wrightbooks
248 pages
Product not available for purchase
Description
'Alex Malley's book is not at all fanciful or theoretical as are many of this genre. This is a result of a life lived full on across a variety of different occupations. The Naked CEO is a distillation of what he has experienced and observed. Read it, learn from it, and you might march ahead with a confident stride.' —Sir Michael Parkinson, CBE
Even a suspended schoolboy can become a CEO
The Naked CEO gives you the power to shape your future. With intriguing stories and outstanding advice, this book puts the knowledge and insights of a successful CEO right in your pocket. Dream big, pursue your passions and be inspired by this practical guide that gives you a huge advantage over the competition.
From suspended schoolboy to disruptive CEO, author Alex Malley has led a life rich in success and mistakes. In this book, he shares his inspiring story and the secrets he learned along the way, giving you the skills you need to hit the ground running.
The Naked CEO is the truth you need to build a big life, with practical advice from someone who has lived it.
About Alex Malley xvii
Acknowledgements xix
Prologue xxi
Part I: Dare to dream
1 Be yourself 5
2 Dreams don't happen overnight 13
3 Mistakes make you smarter and stronger 19
4 Insights come from everywhere 27
5 The black box 35
Part II: Create your own universe 43
6 Study — finish what you start 47
7 Networking for novices 55
8 Get LinkedIn 63
9 Creating a resume that gets read 71
10 Succeeding at job interviews 79
Part III: It's all about the people 91
11 The first day of a new job 95
12 Establishing a rapport with your colleagues 101
13 Remembering and using people's names 109
14 Team work and poor team performance 115
15 Getting people to say 'yes' 123
Part IV: Be the best person you can be 131
16 Getting organised and getting things done 135
17 Spotting an opportunity and standing out 141
18 Sucking it up 149
19 Pushing back and saying 'no' 157
20 Working out when to leave 167
Part V: The leadership track 175
21 Setting priorities 179
22 The importance of delegating 187
23 Building your leadership confidence 195
24 The work–life balance myth 203
25 Leadership — it's personal 209
Conclusion 215
Index 217
"..this is a very personal book which makes it more powerful, as it shows this is not just theory but it works" (Financial Adviser, February 2015)