The Nasdaq Trader's Toolkit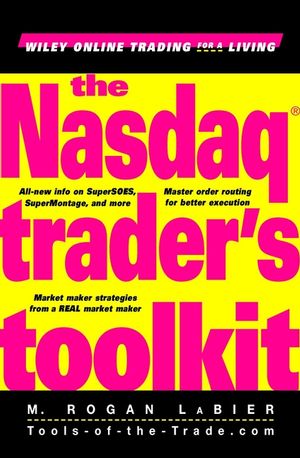 The Nasdaq Trader's Toolkit
ISBN: 978-0-471-43648-5
Feb 2002
224 pages
Product not available for purchase
Description
Nothing has changed the markets more in the last few years than the advent of direct access, the combination of NASDAQ Level II quotes and direct order routing which together enable savvy traders to "hit" bids and offers and go up against the market makers. But just having access to these tools is not enough. Knowing how to use the tools-quickly and expertly-is key. In The NASDAQ Trader's Toolkit, a former market maker reveals the secrets of NASDAQ trading systems.
Introduction.

The Toolbox.

Level II: Definitions.

Level II: Interpretation.

Level III.

Tools of Execution.

Order Routing Grid.

Complete Guide to Selling Short.

Risk Management.

Games People Play.

Margin.

Philosophical Perspective.

Index.