The Nature of Organizational Leadership: Understanding the Performance Imperatives Confronting Today's Leaders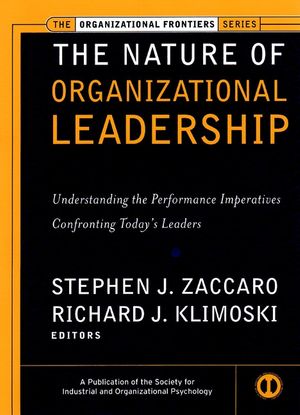 The Nature of Organizational Leadership: Understanding the Performance Imperatives Confronting Today's Leaders
ISBN: 978-1-118-29744-5 February 2012 Pfeiffer 448 Pages
Description
The quality of an organization's top leaders is a critical influence on its overall effectiveness and continuing adaptability. Yet, little current research examines leadership within the context of organizational structure, such as how leaders influence organizational performance in those key moments when an executive's action is critical to driving the organization forward. This book represents a significant contribution to the literature of leadership, combining a contextual approach to organizational leadership with an in-depth treatment of the cognitive, social, and affective dynamics underlying that leadership. The Nature of Organizational Leadership, using an interdisciplinary approach that draws from the work of scholars in both management and psychology, provides a much-need organizational perspective on the problems to confronted by top executive leaders and the requisite behaviors, attributes, and outcomes necessary to lead organizations effectively.
The Nature of Organizational Leadership.

THE PERFORMANCE IMPERATIVES OF ORGANIZATIONAL LEADERSHIP.

Conceptual Requirements of Organizational Leadership.

Leadership, Sense-making, and Mental Models.

Social and Behavioral Complexity.

Social Capital and Organizational Leadership.

The Acquisition of Power and the Emergence of Organizational Executives.

Personal Values, Organizational Vision, and Strategic Management.

The Political Dynamics of Organizational Leadership.

Leadership, Organizational Evolution and Technological Change.

The Financial Press of Organizational Leadership.

THE STAFFING IMPERATIVES FOR ORGANIZATIONAL LEADERSHIP.

Leader Training and Development.

Leader Assessment and Selection.

Assessment of Leadership Outcomes.

CONCLUSION AND COMMENTARY.

The Nature of Organizational Leadership: Conclusions and Implications.

Leadership Research Methods.
""This book does an excellent job of integrating the leadership literature...."" (Personnel Psychology, Spring 2002)