The New Age Movement: Religion, Culture and Society in the Age of Postmodernity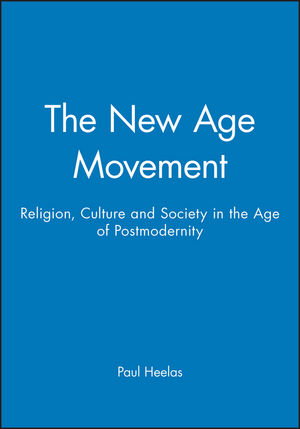 The New Age Movement: Religion, Culture and Society in the Age of Postmodernity
ISBN: 978-0-631-19332-6 October 1996 Wiley-Blackwell 288 Pages
Description
This is the first wide-ranging and accessible introduction to the fascinating subject of the New Age movement.
Table of contents
List of Illustrations.
Acknowledgements.
Introduction.
PART I. PORTRAYAL.
1. Manifestations.
2. Developments.
3. The New.
4. Significance.
PART II. APPEAL.
5. Uncertainties of Modernity.
6. Certainties of Modernity.
PART III. EFFECTIVENESS.
7. Sel-Understanding.
8. The Future.
Appendices: (1) Characterizations of the New Age; (2) Before and After Exegesis.
References.
Index.
Reviews
"Drawing on a vast and rich body of sources, Dr Heelas has produced a remarkably comprehensive picture of the multi-faceted contemporary New Age movement. His knowledge of everything from human potential movements to the new Gurdjieff-inspired religious systems and modern paganism is in itself no less impressive than his discerning commentary on what all this means for modern society. His deeply researched but lightly-worn scholarship informs every page, and anyone who wishes to get an understanding of the present-day fringe religious scene will need to acquaint themselves with this book."
Dr B R Wilson, Emeritus Fellow of All Souls, University of Oxford
"A pioneering book, and a remarkable feat of sympathetic interpretation which will change the way we perceive the New Age. Paul Heelas makes sense out of a wider range of materials than I'd have believed possible. A book to buy and keep, as a document of our times." Don Cupitt, Emmanuel College, University of Cambridge
It should be clear from all of this that Heelas takes the New Age seriously and is able to point to it as cultural expression of modernity as well as, in some ways, a resource for modernity. Voices are often shrill and unidimensional in dealing with the New Ages; so his careful, searching judgements are surely welcome... Still, Heelas has contributed significantly to the small list of truly good books on the New Age movement. With its plethora of concrete examples, his work is rich in conveying the texture of the movement, and it is evenhanded in its evaluation of evidence and claims" Professor Catherine L. Albanese, Department of Religious Studies, University of California.
"Heelas' work presents a particularly good introduction to the subject. Heelas' book will be of great assistance to everyone interested in undertaking research into some aspect of the New Age Movement." Religion
"Paul Heelas has produced an extremely useful account of the new Age and this book will no doubt be a standard text for some time to come." Fiona Bowie, BASR Bulletin.
"... Heelas' book provides a good comprehensive guide to the New Age Movement. This book is a valuable resource for those studying the sociology of religion, particularly for those interested in the New Age Movement." Andri Soteri, London School of Economics and Political Science
"We have long needed a scholarly and objective description and assessment of the New Age Movement, and at last Paul Heelas... has provided us with one... Comtemporary Christians in particular need to know why New Age ideas attract, and they need a guide through this perplexing welter of beliefs, therapies, lifestyles, hopes and aspirations. They could have none better than The New Age Movement." The Christian Parapsychologist
"Heelas's description of contempory New Age phenomena provide a valuable resource for the student of new Religious Movements" Wendy W. Young, University of Florida
Features
* The first wide ranging and accessible introduction to this topic.
* Draws on a wide range of examples (European and American).
* One of the first books to take account of the considerable body of literature (in social theory and cultural studies) which has been developed in connection with modernity and postmodernity.