The New Blackwell Companion to Medical Sociology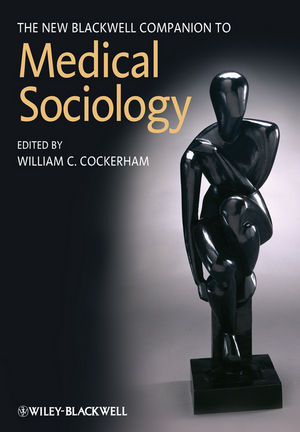 The New Blackwell Companion to Medical Sociology
ISBN: 978-1-444-31478-6 November 2009 Wiley-Blackwell 616 Pages
Description
An authoritative, topical, and comprehensive reference to the key concepts and most important traditional and contemporary issues in medical sociology.
Contains 35 chapters by recognized experts in the field, both established and rising young scholars
Covers standard topics in the field as well as new and engaging issues such as bioterrorism, bioethics, and infectious disease
Chapters are thematically arranged to cover the major issues of the sub-discipline
Global range of contributors and an international perspective
List of Contributors viii
Preface xv
PART I INTRODUCTION 1
1 Medical Sociology and Sociological Theory 3
William C. Cockerham and Graham Scambler
2 Health and Culture 27
Stella Quah
3 The Sociology of the Body 47
Sarah Nettleton
PART II HEALTH AND SOCIAL INEQUALITIES 69
4 Health and Social Stratification 71
Eero Lahelma
5 Health Status and Gender 97
Ellen Annandale
6 Health, Ethnicity, and Race 113
Hannah Bradby and James Y. Nazroo
PART III HEALTH AND SOCIAL RELATIONSHIPS 131
7 Health and Religion 133
Ellen L. Idler
8 Health Lifestyles: Bringing Structure Back 159
William C. Cockerham
9 Social Capital and Health 184
Lijun Song, Joonmo Son, and Nan Lin
10 Medicalization, Social Control, and the Relief of Suffering 211
Joseph E. Davis
11 Stress 242
William R. Avison and Stephanie S. Thomas
12 Stress in the Workplace 268
Johannes Siegrist
PART IV HEALTH AND DISEASE 289
13 Emerging Infectious Diseases, Urbanization, and Globalization in the Time of Global Warming 291
George J. Armelagos and Kristin N. Harper
14 Chronic Illness 312
Kathy Charmaz and Dana Rosenfeld
PART V HEALTH CARE DELIVERY 335
15 Health Professions and Occupations 337
Elianne Riska
16 Challenges to the Doctor–Patient Relationship in the Twenty-First Century 355
Jennifer Vanderminden and Sharyn J. Potter
17 Complementary and Alternative Medicine: Processes of Legitimation, Professionalization, and Cooption 373
Hans A. Baer
18 The American Health Care System: Beginning the Twenty-First Century with High Risk, Major Challenges, and Great Opportunities 391
Bernice A. Pescosolido and Carol A. Boyer
19 The British Health Care System 412
Michael Bury
20 The Convergence and Divergence of Modern Health Care Systems 434
Fred Stevens
21 Social Policies and Health Inequalities 455
Amélie Quesnel-Vallée and Tania Jenkins
PART VI NEW DEVELOPMENTS 485
22 A Sociological Gaze on Bioethics 487
Kristina Orfali and Raymond G. DeVries
23 Medical Sociology and Genetics 511
Paul A. Martin and Robert Dingwall
24 New Developments in Neuroscience and Medical Sociology 530
Simon J. Williams
Author Index 552
Subject Index 584
"Generally, this is up-to-date review of medical sociology is a necessary source for all medical sociologists....highly recommended." (Choice, October 2010).