The New Challenge of Direct Democracy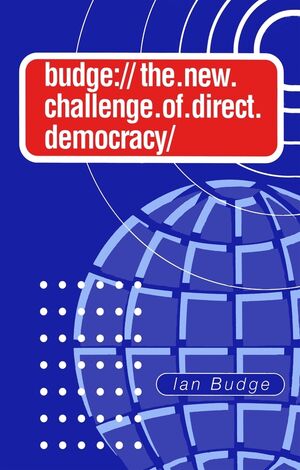 The New Challenge of Direct Democracy
ISBN: 978-0-745-61765-7
Dec 1996, Polity
216 pages
Description
Direct democracy involves citizens in discussion and decisions about what the government is to do, rather than leaving this to officials or parliaments. It thus challenges the restrictions placed by representative democracies such as Britain and the United States on political consultation and popular participation. Why should responsible adults not take public decisions as well as making their own individual choices? One affects them just as much as the other.


Can ordinary citizens make good public policy though? Many lack education and expertise and may not even be interested in politics. Even without these individual defects, mass debate may by its very nature lead to arbitrary or downright bad decisions. This book confronts these arguments in light of new communication developments which for the first time make direct democracy technically feasible in a mass society. The result is a highly original and innovative account of the possibility of the direct involvement of citizens in the governance of their own affairs.
Preface.
1. Mass Participation and its Feasibility.
2. What are Direct and Representative Democracy?.
3. New Answers to Old (and New) Criticisms.
4. Participation in Practice.
5. Citizens and Parties under Direct Democracy.
6. Structural Problems and Constraints.
7. From Rhetoric to Direct Reality.
Bibliography.
Index.
"Compulsory reading for anyone with an interest in democracy's future."
Political Studies
"The New Challenge of Direct Democracy constitutes a genuine addition ot the literature. It clears up many misconceptions, and makes a powerful case." West European Politics
* Comprehensive and original re-examination of democratic thought and the subject of direct democracy - the direct involvement of citizens in politics.
* Unlike most previous discussions on the subject, author argues that direct democracy is now feasible for a mass society in light of new developments in communication.
* Provides compelling evidence for the existence of direct democracies in half of the US states, Switzerland and Italy and, accordingly argues that direct democracy is both desirable and feasible.