The New Competition: Institutions of Industrial Restructuring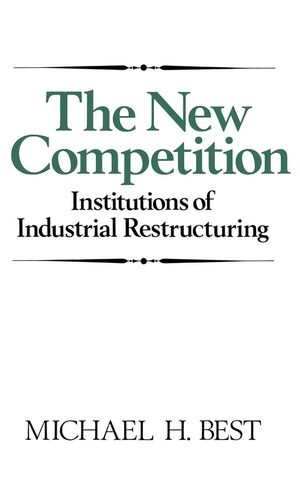 The New Competition: Institutions of Industrial Restructuring
ISBN: 978-0-745-60364-3 June 2011 Polity 308 Pages
Description
In this important new book, Michael Best argues that we are currently witnessing the emergence of new principles of production and business organization in the industrial societies of the West. The 'old competition', based on large-scale industrial production, is giving way to new forms of competition based on small firms acting as strategic agents in national and international markets.

Michael Best analyses this development by drawing on a wide range of material from Britain, Europe, Japan and the United States. He examines the different perspectives on business organization during the age of Fordism - such as those developed by Galbraith, Holland and Chandler - and contrasts these accounts with the characteristics of successful competitors in the contemporary 'post-Fordist' age. He develops the paradigm of strategic planning in order to analyse firm, sector and intersector dynamics. He also draws out the implications of the new competition for industrial policy in Britain and elsewhere, giving particular attention to the role of national investment banks and enterprise boards.

This thoughtful and original book will be of interest both to students in economics and industrial sociology, and to anyone concerned with the problems raised by economic decline and industrial restructuring in Western societies today.
Introduction.
Part I: The Old Competition.
1. The American System.
2. Big Business: Mass Production and Managerial Hierarchy.
3. Big Business and Sector Regulation.
4. Comparative Theoretical Perspectives on the Firm.
Part II: The New Competition.
5. The Entrepeneurial Firm in Japan.
6. Industrial Policy and Antitrust in Japan.
7. The Third Italy: Regional Cooperation and International Competition.
8. The Industrial District as Collective Entrepeneur.
9. The New Competition: Interpretations and Challenges.
'An extremely valuable book.
Sociology
'Best's book will be admired by those who appreciate discussions about economic theory and those preferring descriptive accounts of management and industrial policies.' Management
1. Best develops a timely and forceful argument concerning the decline of large-scale manufacturing industry and the emergence of new competition, based on small scale production and flexible specialization. 2. Comparative analysis of the strategies and limitations of US and UK `Big Business' and the `New Competition' in Japan and Italy. 3. Redefines key economic concepts such as competition, the market, the firm, strategy, regulation and industrial policy.