The New Complete Illustration Guide: The Ultimate Trace File for Architects, Designers, Artists, and Students, Revised and Expanded 2nd Edition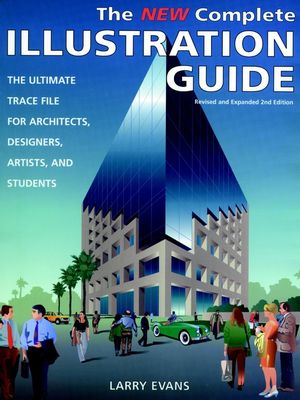 The New Complete Illustration Guide: The Ultimate Trace File for Architects, Designers, Artists, and Students, Revised and Expanded 2nd Edition
ISBN: 978-0-471-28754-4 October 1996 352 Pages
Description
This Second Edition of the popular tracing guide is an essential addition to any architect's or designer's reference collection, providing the most comprehensive collection of illustrations available in any single source. The New Complete Illustration Guide contains not only thousands of illustrations to copy, scan, or use as a reference, but it also has a complete how-to section with helpful hints on watercolor illustration, perspective, and picture composition. Ample illustrations--created by the author and also gathered from other resources--are used to illustrate the points being covered. Within the pages of The New Complete Illustration Guide, you'll find a wealth of materials that you'll be able to use daily in your architectural renderings and sketches, including:
* A broad selection of foreground and background materials
* A wide range of trees, plants, and people presented in a variety of scales
* Hundred of vehicles--from current models to classics, from airplanes to boats
* Over 300 full-color illustrations of trees, plants, people, and vehicles.
Also included is detailed, step-by-step guidance on a variety of topics including perspective, circles and ellipses, watercolor rendering, glass indication, and drawing people. The "Rendering Gallery" shows how the figures, trees, plants, and vehicles included in the book can be used to enhance architectural renderings. For those with an interest in history, the chapter on "Old Masters" is a rare look at some of the very best architectural illustrators of the past, including Joseph Pennell and Harry Fenn. Whether you are an architect, a designer, an artist, or a student, The New Complete Illustration Guide is filled with materials that you'll use again and again, to trace, scan, copy.and to learn from.
Table of contents
How to Use this Book.

Early Masters of Rendering.

Color Section.

Color Section.

FIGURES.

Female.

Male.

Groups.

Children.

Trees.

Plants.

Vehicle.