The New Deal: America's Response to the Great Depression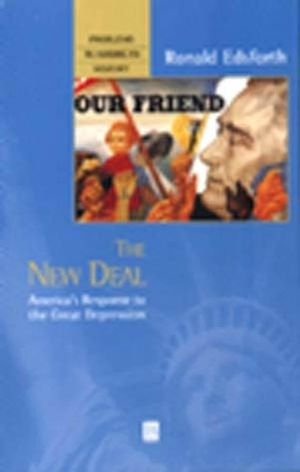 The New Deal: America's Response to the Great Depression
ISBN: 978-1-577-18143-9 April 2000 Wiley-Blackwell 340 Pages
Description
In this concise and lively volume, Ronald Edsforth presents a fresh synthesis of the most critical years in twentieth-century American history. The book describes the collapse of American capitalism in the early 1930s, and the subsequent remaking of the US economy during Franklin D. Roosevelt's presidency. It is written for a new generation of readers for whom the Great Depression is a distant historical event.
Table of contents
List of Figures.
Acknowledgments.
Introduction: The New Deal in Historical Perspective.
1. From New Era Prosperity to a World in Depression.
2. The Politics of the Great Depression.
3. Why the Old Deal Failed.
4. America Impoverished.
5. Out of Disorder, A New Deal.
6. A New Deal in One Hundred Days.
7. The Problem of Recovery.
8. Reconstructing Capitalism.
9. Democratic Reforms.
10. The End of the New Deal.
Epilogue: The New Deal's Legacy.
Appendix: A Partial Chronology of Civil Unrest and Financial Panic, The Winter of 1932-33.
Notes.
Index.
Reviews
"Edsforth has written an excellent one-volume study of the New Deal that will be useful for college students and general readers"
CHOICE
<!--end-->
"Edsforth has done an admirable job of attempting to maintian a balanced appraoch." The Historian

"From this brilliant description of the New Deal's response to the Great Depression and its transforming commitment to social justice and economic security for all Americans, one understands why Franklin Roosevelt is 'the man of the century'." -- William J. vanden Heuvel, President, Franklin and Eleanor Roosevelt Institute

"This lucid and insightful narrative brings us back to some essential truths that need to be retold about the human tragedy of the 1930s, the greatness of Franklin Roosevelt, and the achievements of his New Deal." – Michael E. Parrish, Professor of History, University of California, San Diego
What's New
Concise and accessible introduction to the New Deal and its consequences
Shows the impact of the New Deal after the social disorder of Great Depression
Places the New Deal in the context of the fascism and militarism of the period
Contains a detailed and comprehensive chronology of events.