The New Forensics: Investigating Corporate Fraud and the Theft of Intellectual Property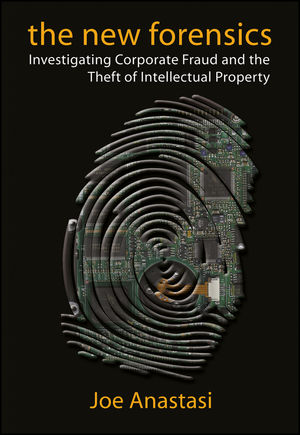 The New Forensics: Investigating Corporate Fraud and the Theft of Intellectual Property
ISBN: 978-0-471-26994-6
Jun 2003
288 pages
Product not available for purchase
Description
An in-depth look at the tools, techniques, and tactics used in computer forensics
The New Forensics introduces readers to the world of business forensics, using interesting vignettes, interviews, and actual crime reports. It examines recent cases in which the use of computer forensics led to evidence linking executives to fraud and covers issues such as the theft of trade secrets, the use of data mining, money laundering, and other types of theft and fraud. Author Joe Anastasi, a well-respected leader in computer and business forensics, leads the reader on a shadowy journey through top-secret government offices and real-life business investigations while covering the moral and legal issues surrounding corporate crime. Case studies, stories, and interviews help highlight important issues and move the book out of the theoretical into the realm of actual practice.
Joe Anastasi (San Francisco, CA) serves as the Global Leader for Deloitte Forensics, which includes the operation of several Cybercrime Computer Forensics labs located around the world. He is a member of the High-Tech Crime Investigation Association and the Association of Certified Fraud Examiners.
1. "Just Move Away From Your Computer Please."
2. "It's Gonna Be a Raid.'"
3. "A Dog's Just Run Past."
4. She'd Deleted a Helluva Lot of E-Mail.
5. "You Need to Get Over There."
6. "You're Nothing But a Goon in a Suit."
7. "Oh, And By the Way."
8. Mafiosi Have Rights, Too, Don't'Cha Know?
9. DumbFellas.
10. Even a Tick Can Swell Only So Far.
11. "Bad Tuna."
12. "101 Ways to Cook the Books."
13. "The Cider House Rules."
14. "Yeah, 'NFW.'"
15. DumbFellas Go Corporate.
16. The Lexicographer and the Dormant Accounts.
17. "I'm So Glad You're Here."
18. "More Valuable Than Heroin."
19. Hunting the World's Greatest Outlaw.
20. The Metaphysical Theory of Being.
Notes.
Index.
These two books offer very different treatments of the popular subject of forensic science. Investigator Anastasi applies the term to the field of white-collar crime, providing an in-depth look at several real-life case studies of forensic investigations of corporate and intellectual property crimes. While not exactly the same as the "blood and guts" forensic work that we see portrayed in today's popular culture, these cases -of fraud, trade secret theft, and other security breaches -are nevertheless very interesting. Anastasi has written one of the first books dealing with this "new" forensics, a field destined to become more popular, especially as the avenues of white-collar crime expand with the Internet. Although the book is riddled with technical computer lingo, the author does a good job of explaining and putting things in lay reader's terms.
Taking a more traditional approach to the subject, Platt, author of many science books for DK, presents a brief summary of the better-known aspects of forensic science. Replete with many wonderful color photos and illustrations, this short text includes chapters ranging from "At the Crime Scene" and "Human Identification" to "Lethal Agents" and "Crime Without Corpses," including some of the types of crimes covered in the Anastasi book. A four-page time line of breakthroughs in forensic science and a two-page glossary of subject terms conclude the volume. Wile Anastasi's book is recommended for large public libraries and academic libraries serving criminal justice programs, Platt's is recommended for high school and public libraries. —Sara Jent, Univ. of Louisville Lib. (Library Journal, June 15, 2003)