The New French Philosophy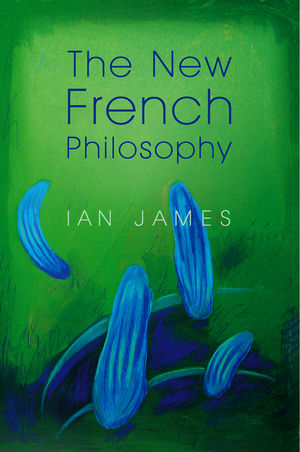 The New French Philosophy
ISBN: 978-0-745-64806-4 May 2012 Polity 220 Pages
Download Product Flyer
Download Product Flyer
Download Product Flyer is to download PDF in new tab. This is a dummy description. Download Product Flyer is to download PDF in new tab. This is a dummy description. Download Product Flyer is to download PDF in new tab. This is a dummy description. Download Product Flyer is to download PDF in new tab. This is a dummy description.
Description
This book gives a critical assessment of key developments in contemporary French philosophy, highlighting the diverse ways in which recent French thought has moved beyond the philosophical positions and arguments which have been widely associated with the terms 'post-structuralism' and 'postmodernism'. These developments are assessed through a close comparative reading of the work of seven contemporary thinkers: Jean-Luc Marion, Jean-Luc Nancy, Bernard Stiegler, Catherine Malabou, Jacques Rancière, Alain Badiou and François Laruelle.
The book situates the writing of each philosopher in relation to earlier traditions of French thought. In differing ways, these philosophers decisively distance themselves from the linguistic paradigm which dominated so much twentieth-century thought in order to rethink philosophical conceptions of materiality, worldliness, shared embodied existence and human agency or subjectivity. They thereby open the way for a radical renewal of the claims, possibilities and transformative power of philosophical thinking itself.
This book will be an indispensable text for students of philosophy and for anyone interested in current developments in philosophy and social thought.
Table of contents
Acknowledgements
Introduction: The Demands of Thought
1 Jean-Luc Marion: Appearing and Givenness
2 Jean-Luc Nancy: The Infinity of Sense
3 Bernard Stiegler: The Time of Technics
4 Catherine Malabou: The Destiny of Form
5 Jacques Rancière: The Space of Equality
6 Alain Badiou: The Science of the Real
7 François Laruelle: Beginning with the One
Conclusion: The Technique of Thought
Notes
Bibliography
Reviews
"It is difficult to imagine a better introduction to contemporary French thought than this one."
French Studies
"Definitely a welcome contribution to the task of invigorating and renewing scholarship on French philosophy, that will hopefully raise new interest in texts whose theoretical and interpretative matrix is still ongoing."
Review 31
"An all-encompassing view provided by this concise and insightful book allows us to comprehend the pressing issues of fundamentalism, evil and death, of madness and reason, of the 'questions of how something new might enter the world'."
Spectrum
"Ian James's impressive new work carves out, with precision and clarity, a distinctive new domain within recent French philosophy, revealing a varied spectrum of thinkers who share a common desire to go beyond dominant theories of signification to engage with both the materiality of the real and the question of subjectivity in the wake of structuralism. A real contribution to French intellectual history."
Christina Howells, University of Oxford
"Concise, insightful, lucidly argued, The New French Philosophy discerns how seven thinkers turn away from the linguistic and writerly paradigms of the heyday of structuralism and post-structuralism. By invigorating French thought through emphasis on materiality and the concrete, James addresses pressing political, social and aesthetic dilemmas. His highly original discussions inform, delight and energize."
Verena Andermatt Conley, Harvard University
"Ian James' The New French Philosophy provides an intelligent and accessible overview of the current state of play contemporary French philosophy. Students will welcome James' clear-minded thinking, but will also benefit from an original contribution to the developments he outlines. The book is an ideal introduction to the post-linguistic orientation of French thought."
Steven Groarke, Roehampton University
"The vibrancy of French philosophy continues. Rather than succumb to the presentation of the development of thought within mere chronology, Ian James, by focusing on the centrality of materiality and the capacity of thought to enact modes of transformation, has recast the philosophical. Positing a set of relations between thinkers, James has provided a deeper and more complex version of contemporary French philosophy than has been aviable hitherto."

Andrew Benjamin, Monash University
Features
A major new introduction to contemporary French philosophy, focusing on the most recent developments since post-structuralism and postmodernism.
Examines in detail the work of seven key thinkers, including Alain Badiou, Jean-Luc Nancy, Jacques Rancière and Catherine Malabou, situating each thinker in relation to earlier thinkers and traditions of thought.
Explores their reassessment of conceptions of materiality, human agency, subjectivity and politics, among other things.
This book will be indispensable for students of philosophy and will also be of great interest to a wider readership interested in current developments in philosophy and social thought.