The New Handbook of Psychotherapy and Counseling with Men, A Comprehensive Guide to Settings, Problems, and Treatment Approaches, Volume 2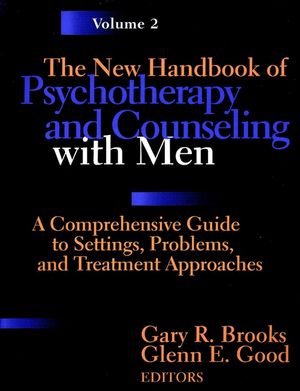 The New Handbook of Psychotherapy and Counseling with Men, A Comprehensive Guide to Settings, Problems, and Treatment Approaches, Volume 2
ISBN: 978-0-787-95604-2
Feb 2001, Jossey-Bass
384 pages
Product not available for purchase
Description
Volume Two of The New Handbook of Psychotherapy and Counseling with Men offers clinicians practical advice for applying a wide variety of effective formats and modalities when working with male clients, including up-to-date information about cognitive, interpersonal, and integrative therapy, as well as group and family therapy. The Handbook also contains a wealth of information on such important topics as using psycho-educational principles and approaches, women therapists who work with male clients, and the critical dynamics of a male therapist and male client. In addition, this volume is filled with practical suggestions for working successfully with men from diverse cultural, sexual, and religious backgrounds.
SECTION FOUR: FORMATS AND MODALITIES.

"Masked Men": New Psychoanalytically Oriented TreatmentModels for Adult and Young Adult Men (William S. Pollack).

Cognitive Therapy for Men (James R. Mahalik).

Interpersonal Psychotherapy for Men (James R. Mahalik).

Gender-Aware Integrative Psychotherapy for Men (Glenn E. Good & Laurie B. Mintz).

Group Therapy for Men (Fredric E. Rabinowitz).

Family Therapy for Men (Carol L. Philpot).

SECTION FIVE: SPECIAL SKILLS.

Promoting Men's Growth and Development: Teaching the New Psychology of Men Using Psychoeducational Philosophy and Interventions (James M. O'Neil).

Mythopoetic and Weekend Retreats to Facilitate Men's Growth(Michael Andronico).

A Feminist Perspective on Men in Emotional Pain (Lenore E. A. Walker).

Women Helping Men: Strengths of and Barriers to Women Therapists Working with Men Clients (Norine G. Johnson).

Male Therapist, Male Client: Reflections on Critical Dynamics (Murray Scher).
SECTION SIX: CULTURAL DIVERSITY AND VARIATIONS.

African-Centered Therapeutic and Counseling Interventions for African American Males (Leon D. Caldwell & Joseph L. White).

Machismo Revisited in a Time of Crisis: Implications for Understanding and Counseling Hispanic Men (J. Manuel Casas, et al..

Asian American Masculinity and Therapy: The Concept of Masculinity in Asian American Males (David Sue).

Psychotherapy with Gay and Bisexual Men (Douglas C. Haldeman).

Counseling Men with Religious Affiliations (Michael R. Maples & John M. Robertson).

A Final Word (Gary R. Brooks & Glenn E. Good).
"The New Handbook is authoritative, illuminating, and clinically compelling; indeed, it is the new standard for any mental health professional treating boys and men. Absorb it, cherish it, and most of all, use it!" (John C. Norcross, professor of psychology, University of Scranton, and president, APA Division of Psychotherapy)