The New Investment Superstars: 13 Great Investors and Their Strategies for Superior Returns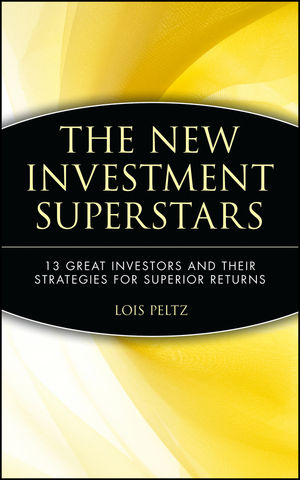 The New Investment Superstars: 13 Great Investors and Their Strategies for Superior Returns
ISBN: 978-0-471-43690-4
Mar 2004
336 pages
Description
Learn how these superstars invest, where they invest, what works--and what doesn't
Since people have been making money in the markets, investors and would-be investors have been fascinated with the money managers and traders who have extracted superior returns. In The New Investment Superstars, Lois Peltz examines fifteen of today's most successful investors by their area of expertise, including stock-picking, global macro trading, sector investing, and more. Readers will learn how these great investors approach the markets at a time when volatility is high and certainty low. From the thirty-five-year-old Lee Ainslie (Maverick Capital), dubbed the ""Win-Win Investor"" by Worth magazine, and Ken Griffin, the thirty-one-year-old who started his first hedge fund as a freshman at Harvard, to Lee Cooperman, long a star stockpicker at Goldman, we meet today's superior managers and learn how they do it.
Peltz reveals that these new stars are flexible traders who inherently understand that long-term wins come from recognizing that markets are ever-changing and that they must adapt. By reading about how they've succeeded and where they lost, investors will learn about market change, and how success is achieved.
Introduction.

SNAPSHOT OF THE HEDGE FUND INDUSTRY.

The Watershed Events of 2000.

Unofficial Reasons for Retirement.

Overview of the Hedge Fund Industry.

THE SUPERSTAR MANAGERS.

Common Threads among the Superstar Managers.

Lee Ainslie, Maverick Capital.

Leon Cooperman, Omega Advisors, Inc.

Ken Griffin, Citadel Investment Group.

John Henry, John W. Henry & Co.

Mark Kingdon, Kingdon Capital Management.

Bruce Kovner, Caxton Corporation.

Daniel Och, Och-Ziff Capital Management.

Raj Rajaratnam, Galleon Group.

Paul Singer, Elliott Associates.

Brian Stark, Stark Investments.

S. Donald Sussman, Paloma Partners.

David Tepper, Appaloosa Management.

Bruce Wilcox, Cumberland Associates.

THE REVERSE SIDE OF THE COIN--WHAT INVESTORS HAVE TO SAY.

Institutional Interest.

Significant Endowment Presence Continues.

MOVING FORWARD.

Where the Hedge Fund Industry Is Headed.

Endnotes.

Index.