The New Leaders: Leadership Diversity in America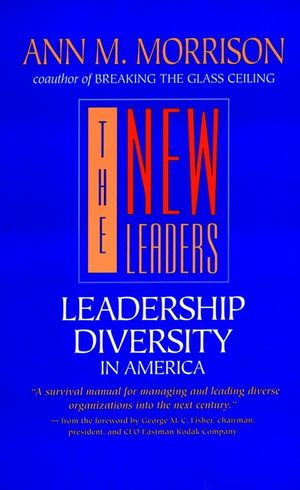 The New Leaders: Leadership Diversity in America
ISBN: 978-0-787-90184-4
Jan 1996, Jossey-Bass
352 pages
Description
By the year 2000, white males will represent less than one third of the American workforce. In this universally praised work, Ann Morrison, co-author of Breaking The Glass Ceiling, becomes the first to offer companies practical strategies for moving tomorrow's new leaders -- white women and people of color -- into the executive ranks. Using personal interviews with nearly 200 managers in organizations noted for their model diversity programs, Morrison presents a very definite, step-by-step action plan that will prove invaluable to leaders looking to guide their businesses into the next century.
Introduction: Diversity: The Turbulent Evolution of a Sensitive Issue.

Part One: Leadership Diversity as Strategy.

1. Achieving Benefits from Leadership Diversity.

2. Challenging the Barriers to Opportunity.

3. Setting Goals for Sustained Leadership Development.

Part Two: Leadership Diversity as Procedure.

4. Establishing Accountability for Diversity.

5. Creating Meaningful Development Opportunities.

6. Using Recruitment to Build Diversity.

Part Three: Leadership Diversity as Action.

7. Step One: Discover (and Rediscover) Diversity Problems in Your Organization.

8. Step Two: Strengthen Top-Management Commitment.

9. Step Three: Choose Solutions That Fit a Balanced Strategy.

10. Step Four: Demand Results and Revisit the Goals.

11. Step Five: Use Building Blocks to Maintain Momentum.

Conclusion: Meeting the Challenges of Leadership Diversity.
?Morrison's insights into pinpointing barriers to diversity and developing solutions are invaluable for entrepreneurs with enough vision to see their businesses in?and guide them into?the next century.?

"Picks up where her first book, Breaking the Glass Ceiling, left off."

"A practical guide to creating more powerful institutions by incorporating the talents and abilities of all sectors of our diverse culture." (Ann W. Richards, governor of Texas)

"If you have just been charged by your institution with responsibility for designing a program to increase diversity--ethnic and gender--at all levels of management, this is a how-to book for you."