The New Localism in American Education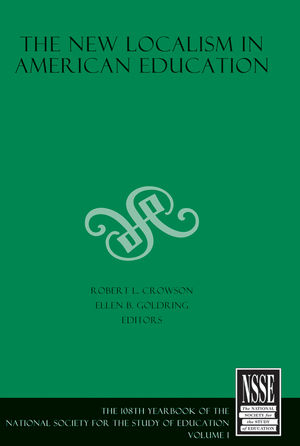 The New Localism in American Education
ISBN: 978-1-444-33430-2
Dec 2009, Wiley-Blackwell
200 pages
Product not available for purchase
Description
This yearbook defines and discusses the new spirit of localism in education.
Papers explore and describe the new spirit of localism in education

Advocates a refocus on relationships between schools and local communities in the context of educational objectives

Published on behalf of the National Society for the Study of Education
1. The new localism in the uk: local governance amid national goals (
Valerie A. Storey and Maggie Farrar ).

2. Urban district central offi ce transformation for teaching and learning improvement: beyond a zero-sum game (Meredith I. Honig, Juli Swinnerton Lorton and Michael A. Copland).

3. Public housing reform and neighborhood schools: how localcontexts must matter (Claire Smrekar).

4. The community college and undocumented immigrant students across state contexts: localism and public policy (Stella M. Flores and Leticia Oseguera).
5. Bottom-up efforts to improve new york city's schooling: the new localism as neighborhood-based education organizing (Norm Fruchter).

6. The politics of localism in an era of centralization, privatization, and choice (Jeffrey R. Henig).