The New Model Army: In England, Ireland and Scotland, 1645 - 1653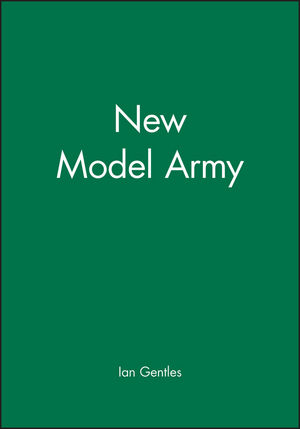 The New Model Army: In England, Ireland and Scotland, 1645 - 1653
ISBN: 978-0-631-19347-0
Mar 1994, Wiley-Blackwell
604 pages
Description
The New Model Army was one of the most formidable fighting forces ever assembled. Taking his evidence from contemporary sources, Ian Gentles describes its formation under Thomas Fairfax and Oliver Cromwell, their innovative tactics, the course of its decisive victories over the forces of Charles I, and its ferociously successful campaigns against the Scots and the Irish. As importantly, he examines the motivations and aspirations of the soldiers and their officers.
The question of how far the New Model was a revolutionary army and how far a body of men whose religious passion was manipulated for the pragmatic, personal, or even conservative aims of its leaders is one that has occupied the minds of historians for three centuries. Ian Gentles provides a convincing resolution of this debate, raising new evidence to support his argument.
List of Maps.
List of Illustrations.
Foreword.
1. The Founding of the New Model Army.
2. Recruitment, Provisioning and Pay.
3. Victory in Battle, 1645-1646.
4. The Importance of Religion.
5. The Army and the People.
6. The Political Wars, 1646-1648: From the King's Surrender to the Assault on Parliament.
7. The Political Wars, 1646-1648: From the Occupation of London to the Second Civil War.
8. The Second Civil War.
9. Revolution at Westminster.
10. The Army and the Levellers.
11. The Conquest of Ireland.
12. The Conquest of Scotland.
13. The Army and the Expulsion of the Rump Parliament.
Epilogue.
Abbreviations.
Notes.
Index.
"A masterly achievement, and renders all previous works on the creation and early years of the army obsolete."
The Times
"A meticulously researched book which will supersede all previous work on the New Model Army." Times Literary Supplement
"The publication of Ian Gentles's account of the New Model Army is an event of major importance in civil war studies. His book is awesomely well researched. What emerges is a very fine work indeed." Economic History Review
"... an outstanding teaching tool... an excellent survey of the army that won the civil war. The clarity of Gentles' prose, and his ability to make sense of a profoundly chaotic period, ensure that this reviewer's students will find the paperback on the required reading list next term." Reviews of Books
* The most comprehensive history ever written of one of the most effective (and one of the oddest) armies the world has ever seen.
* Based entirely on contemporary sources.