The New Political Economies: A Collection of Essays from Around the World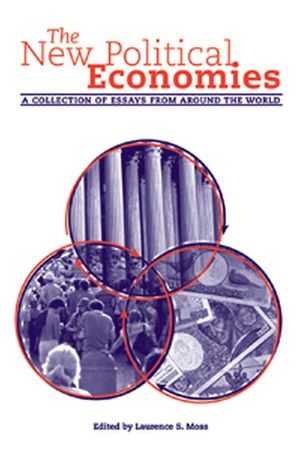 The New Political Economies: A Collection of Essays from Around the World
ISBN: 978-0-631-23497-5 March 2003 Wiley-Blackwell 400 Pages
Download Product Flyer
Download Product Flyer
Download Product Flyer is to download PDF in new tab. This is a dummy description. Download Product Flyer is to download PDF in new tab. This is a dummy description. Download Product Flyer is to download PDF in new tab. This is a dummy description. Download Product Flyer is to download PDF in new tab. This is a dummy description.
Description
This book contains interesting essays on the following range of topics: Fiscal Sociology, Constitutional Economics, Austrian School Perspectives, and New Perspectives on Transition Economies in Asia, Europe and Africa. All of the contributors to this volume apply cutting edge concepts and distinctions in economics to a variety of important topics and issues that surround contemporary debate. The book contains 20 essays, totals about 390 pages and includes a scholarly index.
Table of contents
The New Political Economies: A Collection of Essays From Around the World.
Editor's Introduction. (Laurence S. Moss).
PART I. Historical Perspectives.
"New Political Economies" Then and Now: Economic Theory and the Mutation of Political Doctrine. (A. M. C. Waterman).
PART II. Fiscal Sociology.
Fiscal Sociology: What For? (Juergen Backhaus).
Voters, Parties, and the Endogenous Size of Government. (Jan-Peter Olters).
PART III. Constitutional Economics.
Complexity, Governance and Constitutional Craftsmanship. (Richard E. Wagner).
Opting-Out: The Constitutional Economics of Exit. (Peter Kurrild-Klitgaard).
PART IV. Austrian School Perspectives.
Post-Classical Political Economy: Polity, Society and Economy in Weber, Mises and Hayek. (Peter J. Boettke and Virgil Henry Storr).
New Political Economy, Scientism and Knowledge: A Critique from a Hayekian Perspective, and a Proposal for an Extension of the Research Agenda. (Jan Schnellenbach).
PART V. New Perspectives on Transition Economies: Europe.
The "New" Political Economies. (A View from Russia) (Vladimir Kollontai).
Toward Capitalism or Away from Russia? Early Stage of Post-Soviet Economic Reforms in Belarus and the Baltics. (Andrew Savchenko).
A Political Economy Approach to the Neoclassical Model of Transition. (John Marangos).
PART VI. New Perspectives on Transition Economies: Asia.
Privilege and Corruption: The Problems of China's Socialist Market Economy. (Shuntian Yao).
Political Culture, Economic Structure and Policy: The Laffont-Tirole Model Extended to Modern Japan. (Warren Young and Joris Meijaard).
PART VII. New Perspectives on Transition Economies: Africa.
Political Instability and Economic Growth: Implications of Coup Events in Sub-Saharan Africa. (Augustin Kwasi Fosu).
PART VIII. Radical Criticsms and Reflections.
Against the New Economic Imperialism: Some Reflections. (Jonathan Michie, Christine Oughton, and Frank Wilkinson).
Bourgeoisie Out, Expertise In: The New Political Economies at Loggerheads. (Donald Clark Hodges and Larry Lustig).
Index.
Reviews
'This book clearly reviews similarities and differences in women and men's physical and mental health as shaped by both gender and sex-linked biology, and also varying by outcome and by age, class, race-ethnicity, sexuality and global region. Refreshingly resisting misleading simplifications, Sarah Payne encourages critical thinking about gender, biology and population health.' Nancy Krieger, Harvard School of Public Health
'In this highly topical book, Payne provides comprehensive synthesis of research evidence on the relationship between sex, gender and health. Researchers and policy-makers have only recently begun to take an inclusive approach to gender and health. The health of men and women will be an indispensable resource for the development of research and practice.' Ellen Annandale, University of Leicester

'It is difficult to imagine a more timely book on gender and health. Women's health movement, research advocacy and theory emerging more than three decades ago. The study of men's health and gender did not fully issue until the 1990's. Until now, these two areas of inquiry and health policy have developed separately, and the pursuit of gender equity in public health has been stymied by a lack of integrative vision. Sarah Payne provides a conceptual bridge between these growing sub fields with this lucidly written, well-documented and comprenhsive analysis of gender differences and similarities between women's' and men's health around the globe.' Don Sabo, D'Youville College
Features


Contains original and authoritative English translations of sections from Joseph A. Schumpeter's Theory of Economic Development (first published in 1911 that have not been available to English readers up to now but are relevant to contemporary insights and debates.

Contains essays by veteran observers of the transition process underway in Russia, Africa and East Asia.


Features the new political economies of the Virginia School, Austrian school along with a section on Radical Criticisms and Reflections.