The New Prescriber: An Integrated Approach to Medical and Non-medical Prescribing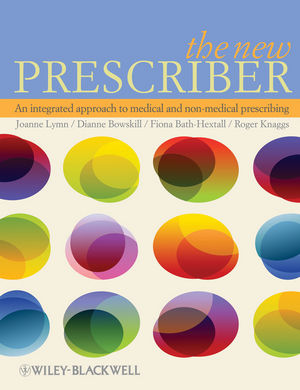 The New Prescriber: An Integrated Approach to Medical and Non-medical Prescribing
ISBN: 978-1-118-30100-5
Mar 2012
176 pages
Description
The New Prescriber is a comprehensive, accessible textbook that provides essential coverage of the three core components for prescribing: the client/patient, the evidence, and the pharmacology. 

Divided into three sections, this text first looks at the consultation with the patient, and outlines legal, professional and ethical frameworks which guide medical and non-medical prescribing. The second section is devoted to evidence-based practice, highlighting key skills essential to all clinicians. This section encourages the student to identify why evidence-based practice should underpin prescribing decisions. The third and final section is concerned with pharmacology. The student is introduced to basic concepts of pharmacodynamics and pharmacokinetics, adverse drug reactions and variability of response. The importance of these pharmacological principles is highlighted throughout the subsequent discussion of drug groups affecting major body systems.

Key features:
Pulls together all key elements of prescribing using an integrated approach
'Stop and Think' boxes and practice application activities provided throughout, enabling the reader to link theory to practice
Key terms and glossary provided
This text is invaluable for all nursing, health and medical students taking courses in prescribing and pharmacology.
Contributors List.
Preface.
SECTION 1 THE PATIENT.
1 The consultation (Frank Coffey and Dianne Bowskill).
2 Accountability and prescribing (Nigel Plant and Richard Pitt).
3 Legal aspects of prescribing (Joy Wingfield).
4 The ethics of prescribing (Richard Cooper).
5 Prescribing in practice (Dianne Bowskill).
6 Record keeping (Fiona Dobson).
7 Public health issues (Michael Watson).
Quiz Answers.
Glossary.
SECTION 2 EVIDENCE-BASED PRACTICE.
8 What is evidence-based practice? (Fiona Bath-Hextall).
9 How do we find the evidence? (Finola Delamere).
10 What are the different types of study design? (Sarah Armstrong).
11 Appraising the evidence (Fiona Bath-Hextall and Sarah Armstrong).
12 How do we interpret the evidence? (Jo Leonardi-Bee).
13 How do we apply the evidence? (Nick Allcock).
Quiz Answers.
Glossary.
SECTION 3 PHARMACOLOGY.
14 General principles underlying drug action (Joanne Lymn).
15 Pharmacokinetics 1 – absorption and distribution (Joanne Lymn).
16 Pharmacokinetics 2 – metabolism and excretion (Joanne Lymn).
17 Routes of administration (Roger Knaggs and Joanne Lymn).
18 Variations in drug handling (Margaret Stone).
19 Adverse drug reactions and interactions (Margaret Stone).
20 Introduction to the autonomic nervous system (Joanne Lymn).
21 Clinical application of the principles of the autonomic nervous system (Joanne Lymn).
22 The respiratory system (Michael Schachter).
23 The cardiovascular system (Martyn Kingsbury and Joanne Lymn).
24 Haemostasis and thrombosis (Joanne Lymn).
25 The renal system (Judith Gregory and Sarah Jones).
26 The gastrointestinal system (Briony Leighton).
27 The endocrine system (Alison Mostyn).
28 Contraception (Alison Mostyn).
29 Introduction to the central nervous system (Dave Skingsley).
30 Neurodegenerative disorders (Dave Skingsley).
31 Depression and anxiety (Dave Skingsley).
32 Schizophrenia (Dave Skingsley).
33 Epilepsy and aticonvulsant drugs (Michael Schachter).
34 Pain and analgesia (Roger Knaggs).
35 Antibacterial chemotherapy (Tim Hills).
36 Antibiotic resistance and Clostridium difficile (Tim Hills).
37 Antifungal and antiviral drugs (Tim Hills).
Quiz Answers.
Glossary.
Index.
An invaluable text for all nursing, health and medical students taking courses in prescribing and pharmacology
Pulls together all key elements of prescribing using an integrated approach
'Stop and Think' boxes and practice application activities provided throughout, enabling the reader to link theory to practice
Key terms and glossary provided