The New Professor's Handbook: A Guide to Teaching and Research in Engineering and Science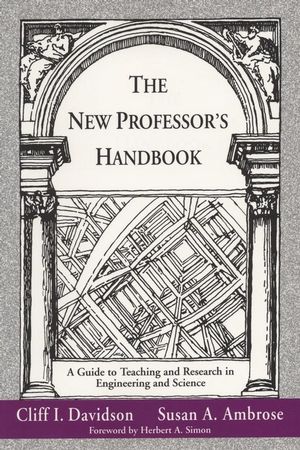 The New Professor's Handbook: A Guide to Teaching and Research in Engineering and Science
ISBN: 978-1-882-98201-1
Jul 1994, Jossey-Bass
216 pages
Description
This book is an ideal resource for those making the transition from graduate student to new faculty member in engineering and science. Developed through years of use with new faculty, it tackles the two themes that will be constant in a young faculty member's career: teaching and research.

The book first distills the abundant literature that has already been published on teaching, covering student learning and course planning, conducting discussions and lecturing, creating exams and assignments, and working with teaching assistants.

Bringing together guidance gained from numerous seminars, discussions, and interviews, and the little existing in current literature on starting and conducting scientific research, the next section includes assembling research teams, supervising graduate research, getting research funding, writing research papers, reviewing research proposals, presenting results, and conducting graduate seminar programs.

The book features practical chapter exercises that apply concepts, and it concludes with an extensive bibliography. It will be of help to any faculty member embarking on a teaching and research career in higher education in the sciences.
About the Authors.
Foreword.
Acknowledgements.
Preface.
Part I: Teaching.
1. Characteristics of Student Learning.
2. Planning a Course.
3. Conducting Discussions.
4. Lecturing.
5. Preparing Activities for Students: Exams and Assignments.
6. Working with Teaching Assistants.
Part II: Research.
7. Supervising Graduate Research.
8. Getting Funding for Research Projects.
9. Writing Research papers.
10. Reviewing research Proposals and Papers.
11. Presenting Talks on Research results.
12. Conducting Graduate Seminar Programs.
Bibliography.
Index.