The New Reckoning: Capitalism, States and Citizens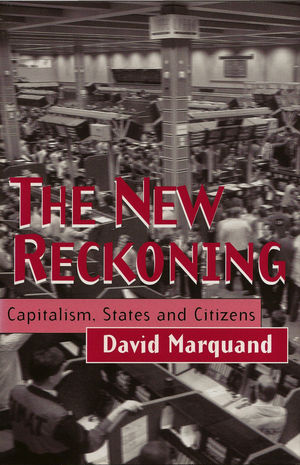 The New Reckoning: Capitalism, States and Citizens
ISBN: 978-0-745-61744-2 December 1997 Polity 232 Pages
Description
We are told that this is a new world, with which old theories cannot cope. But the dynamic driving the current global transformation is not as new as our pundits and politicians pretend. The global market-place of our day may have little in common with the tamed welfare capitalism of the post-war period but it is uncannily reminiscent of the untamed capitalism of 100 years ago. Keynes and Beveridge may be dead, but Marx, Malthus and Ricardo have had a new lease of life.
In these timely essays, David Marquand challenges the fashionable amnesia of the 1990s and addresses the crucial questions raised by the capitalist renaissance which has followed the collapse of Communism and the end of the cold war. In this bewildering new world, which is at the same time an all-too-familiar old world, how can the values of social solidarity and democratic citizenship be realized? Granted that socialism is no longer with us, does it have anything to say from beyond the grave?

How is socialism's great antagonist, liberalism, faring in this new world, and what are the prospects of an accommodation between the two? Where does the new medievalism of contemporary Europe fit in? How do the special peculiarities of the British state, the identity it embodies and the political economy over which it presides relate to those wider issues? What room for maneuver do they give the British left? These questions make up the agenda for The New Reckoning.
Table of contents
Acknowledgements.
1. Journey to an Unknown Destination.
Part I: Capitalism, Socialism and Citizenship:.
2. Reinventing Civic Republicanism.
3. After Socialism.
4. Liberalism's Revenge? Resolving the Progressive Dilemma.
Part II: Europe:.
5. The Politics of Monetary Union.
6. The New Medievalism.
7. Reinventing Federalism.
Part III: Britain:.
8. History Derailed?.
9. The Enterprise Culture: Old Wine in New Bottles?.
10. Henry Dubb versus Sceptred Awe.
11. Collaborative Capitalism and Constitutional Reform.
12. Travels of an Ancien Régime.
Notes.
Index.
Reviews
"David Marquand's quest to understand our times and so reinvent the British liberal tradition has been one of the most important influences on British politics over the last ten years - and on me personally.
The New Reckoning
assembles some of his most challenging and thought-provoking writing - and it is as subtle, intelligent and persuasive as I have come to expect. Another important contribution from the master."
Will Hutton
"David Marquand is that very rare bird these days - a politician (somewhat ex - by his own choice) who is more interested in ideas than in the gossip of who's in and who's out. As however he writes with a flair and even a raciness which should make most gossip columnists green with envy, he is immensely readable. He also writes with a rigorous and disinterested intellectual courage. He follows his argument where it takes him, without regard to which political interests it offends or supports. This book of essays, some old and some new, would be worthwhile just for its brilliant introduction (significantly entitled Journey to an Unknown Destination) alone. But it also has much else of wisdom on the dilemmas of modern societies." The Right Hon. Lord Jenkins of Hillhead
"No observer of Labour's postwar evolution is more perceptive or more deeply reflective than David Marquand. The result is one of the most arresting and thought-stirring books on politics to have appeared for many years. It has the rare merit of combining theoretical and historical vision with an intimate understanding of political practice. It is also a fascinating fragment of political and intellectual autobiography." The New Statesman and Society
"David Marquand's latest offering will not disappoint: his eloquent style, rigorous analysis and challenging commentary characterises The New Reckoning. [It] engages the reader in a thought-provoking, intelligent debate from which few of us will escape without new insights to the political era over which the Blair government presides." The Stakeholder
"David Marquand is an engaging and stylish political thinker, who moves adventurously across academic frontiers and straddles the worlds of scholarship and politics." Prospect
"Marquand has fluently channelled some of his most challenging and thought provoking arguments into what promises to be one of the most influential contributions to modern British politics." Social Science
"The next instalment from this reflective mind will be worth waiting for." The Economist
"It is the work of Britain's most scrupulous liberal commentator on politics ... producing essays of clarity and fine judgment." The Times Literary Supplement
"Comparative and international in his perspective, non-sectarian in his argument, clear in his prose, Marquand brings together a command of political economy, history and political culture and a commitment to the people that belongs to that time. In his writing he makes the fusion that he calls for in British politics." The Guardian
"A fascinating account of his own intellectual development." Government and Opposition
"Marquand's arguments and interpretations are lucid, thought provoking and undeniably pertinent." International Affairs
Features
* This is a major new book by one of Britain's foremost political commentators.
* The volume offers a comprehensive re-interpretation of British politics from the Second World War to the present.
*Marquand poses sharp dilemmas and new questions for our politicians faced with the extension of capitalism on a transnational basis. The development of global financial markets threatens to undermine the basis of citizenship and welfare. In exploring how this can be checked, Marquand sets out a bold new programme of principels and institutions for the re-regulation and accountability of capitalist organizations, and of our public life more generally.