The New Science of Intimate Relationships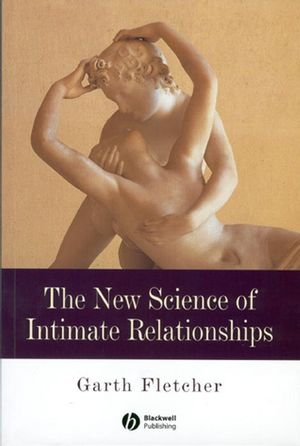 The New Science of Intimate Relationships
ISBN: 978-0-470-77339-0 February 2008 Wiley-Blackwell 336 Pages
Description
Written by one of the world's leading authorities on close relationships, this accessible study is one of the first to look seriously at what science can tell us about love, sex and friendship.
Preface.
1. The New Science of Intimate Relationships.
PART I: THREE THEORETICAL PLANKS.
2. The Intimate Relationship Mind: Theories About Theories about Theories.
3. The Origins of the Intimate Relationship Mind.
4. Love and Other Emotions in Intimate Relationships.
PART II: THE DEVELOPMENT OF INTIMATE RELATIONSHIPS.
5. Reading Minds and Personalities in Intimate Relationships.
6. Communication and Relationship Success.
7. Attachment and Intimacy.
8. Selecting Mates and Relationships.
PART III: SEX AND VIOLENCE.
9. Sex and Passion.
10. The Strange Case of Aggression in Intimate Relationships.
PART IV: CONCLUSION.
11. Assembling the Intimate Relationship Mind.
Notes.
References.
Index.
"With impeccable scholarship, sharp wit, and a beautiful writing style, Garth Fletcher showcases, explores, and debates some of the most important principles, ideas, and assumptions that define the new science of intimate relationships. Both experts and laypersons alike can glean important, new insights from each thought-provoking chapter. This wonderful book is required reading for anyone who wants to understand the multifaceted reasons for how and why sexual relationships are initiated, developed, maintained, and sometimes terminated across the lifespan."
Jeffrey Simpson, Professor of Psychology at Texas A&M University, and co-editor of Attachment Theory and Close Relationships and Evolutionary Social Psychology
"This is an important, fascinating, and delightful book. Garth Fletcher offers the reader an up-to-date summary of the most interesting and important work on human sexual relationships, and he pulls these pieces together with a grand and profound understanding of how -- and why -- people carry on intimate relationships. The book is so beautifully written that one moves easily from chapter to chapter, learning something new on almost every page." Roy Baumeister, Professor of Psychology at Case Western Reserve University, and author of The Social Dimension of Sex and Evil and Inside Human Violence and Cruelty

"In this lively new book, Garth Fletcher has provided a much needed interdisciplinary integration of the diverse scientific fields that study intimate relationships. Researchers will find their work ably presented in a volume that is scholarly, fiercely intelligent, and even-handed. Students and lay readers will also enjoy the many insights and discoveries so engagingly presented in this fascinating book." Letitia Anne Peplau, Professor of Psychology at UCLA, and co-author of Social Psychology (10th. Edition) and co-editor of Gender, Culture, and Ethnicity: Current Research about Men and Women

"Garth Fletcher succeeds brilliantly at reaching just the right balance of rigorous scholarship and great storytelling… What I enjoyed most about this book was not only the fascinating tour of current research and theory, but also the sheer joy of science that underlies each chapter…a delightful and important book." Associate Professor Nancy Collins, University of California at Santa Barbara, ISSPR Bulletin

A superb book…engagingly written, insightful, richly detailed, and admirably comprehensive. It is a joy to read. Choice

"The New Science of Intimate Relationships is a bold attempt to cover the landscape in a way that will appeal to lay readers, students, and researchers alike. Overall, Fletcher does a good job walking the fine line among these audiences... all readers will gain insights into their intimate relationship minds." Mark R. Leary, Wake Forest University, The Human Nature Review, Volume 3, 2003


Looks at what science can tell us about love, sex and friendship.


Synthesises ideas from different sub-disciplines of psychology.


Written to be accessible to general readers as well as students.