The New Structuralism: Design, Engineering and Architectural Technologies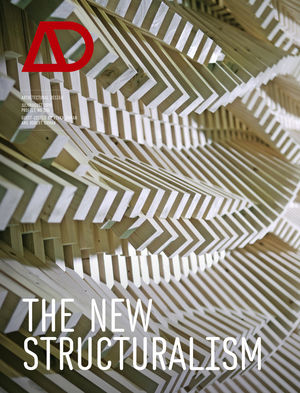 The New Structuralism: Design, Engineering and Architectural Technologies
ISBN: 978-0-470-74227-3
Aug 2010
136 pages
Description
Today the convergence of design, engineering and architectural technologies are breeding a new material practice in experimental architecture. In this pioneering publication, this important shift is fully defined as a highly dynamic synthesis of emerging principles of spatial, structural and material ordering integrated through the application of materialization and fabrication technologies. Providing the foundations for a new theory of structuring in architecture, The New Structuralism has broad implications for the way we both conceive and undertake architectural design, as its impact starts to emanate not only across education internationally, but also through architectural research and practice.

Features premier research and design-oriented engineering practices:
Bollinger + Grohmann
Buro Happold
Hanif Kara (AKT)
Werner Sobek

Focuses on design and fabrication technologies in the recent work of:
Martin Bechthold
Barkow Leibinger
EMBT (Enric Miralles, Benedetta Tagliabue)
Gramazio & Kohler
Fabian Scheurer (designtoproduction)
Yves Weinand and Markus Hudert

Contributors include:
John Chilton
Dominik Holzer and Steven Downing
Neri Oxman
Helmut Pottmann
Nina Rappaport
Editorial (
Helen Castle
).
About the Guest-Editors (Rivka Oxman and Robert Oxman).
Spotlight: Visual highlights of the issue.
Introduction.
The New Structuralism: Design, Engineering and Architectural Technologies (Rivka Oxman and Robert Oxman).
Radical Sources of Design Engineering (Werner Sobek).
The renowned proponent of ultra- lightweight structures charts how his consultancy has developed a far-reaching approach to practice.
Structured Becoming: Evolutionary Processes in Design Engineering (Klaus Bollinger, Manfred Grohmann and Oliver Tessmann).
Structuring Strategies for Complex Geometries (Wolf Mangelsdorf).
On Design Engineering (Hanif Kara).
Innovative design-led engineer Hanif Kara advocates a holistic approach to architecture and engineering.
Weaving Architecture: Structuring the Spanish Pavilion, Expo 2010, Shanghai (Julio Martínez Calzón and Carlos Castañón Jiménez).
Optioneering: A New Basis for Engagement Between Architects and their Collaborators (Dominik Holzer and Steven Downing).
Heinz Isler's Infinite Spectrum: Form-Finding in Design (John Chilton).
Architectural Geometry as Design Knowledge (Helmut Pottmann).
Structuring Materiality: Design Fabrication of Heterogeneous Materials (Neri Oxman).
Materialising Complexity (Fabian Scheurer).
Fabricating Design: A Revolution of Choice (Frank Barkow).
Timberfabric: Applying Textile Principles on a Building Scale (Yves Weinand and Markus Hudert).
Encoding Material (Fabio Gramazio, Matthias Kohler and Silvan Oesterle).
The Return of the Future: A Second Go at Robotic Construction (Martin Bechthold).
Bechthold examines the recent revival in robotic technologies in construction.
A Deeper Structural Theory (Nina Rappaport).
Counterpoint.
Digital Solipsism and the Paradox of the Great 'Forgetting' (Neil Spiller).