The New Update on Adult Learning Theory: New Directions for Adult and Continuing Education, Number 89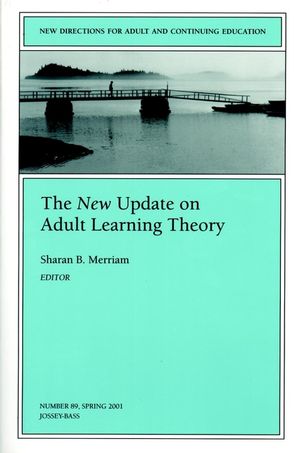 The New Update on Adult Learning Theory: New Directions for Adult and Continuing Education, Number 89
ISBN: 978-0-787-95773-5
May 2001
112 pages
Description
A companion work to 1993's popular An Update on Adult Learning Theory, this issue provides the adult learning educator with the latest developments, significant research, and continuing scholarship in andragogy and self-directed learning. Exploring a variety of frameworks, including context-based learning, informal and incidental learning, somatic learning, and narrative learning; the authors analyze recent additions to well-established theories and discuss the potential impact of today's cutting-edge approaches. Revised models of theories introduced in the 1993 edition, such as women's learning and transformational learning, are updated with the results of burgeoning scholarship and empirical data gathered in the 1990s. Articles also introduce pioneering developments in adult learning research, including new understandings of the brain's relationship to mind and consciousness and the role of emotions, feelings, and the imagination in the learning process. As an assessment of adult learning theory today, this volume is an indispensable resource for adult learning educators committed to delivering a more effective practice in the classroom, in the workplace, or in the community.

This is the 89th volume of the quarterly journal New Directions for Adult and Continuing Education.
EDITOR'S NOTES (Sharan B. Merriam).

1. Andragogy and Self-Directed Learning: Pillars of Adult Learning Theory (Sharan B. Merriam).
Andragogy and self-directed learning, two foundational theories of adult learning, continue to guide our understanding of how adults learn.

2. An Update on Transformational Learning (Lisa M. Baumgartner).
In the 1990s, empirical research on transformational learning has expanded the theory proposed by Freire and Mezirow three decades ago.

3. Informal and Incidental Learning (Victoria J. Marsick, Karen E. Watkins).
The vast majority of adult learning is informal and incidental; the authors present their revised model of this type of learning.

4. A New Look at Women's Learning (Elisabeth R. Hayes).
Myths and stereotypes of women's learning are examined, and a socially-constructed notion of gender is proposed for understanding women's learning.

5. Context-Based Adult Learning (Catherine A. Hansman).
Learning is a tool-dependent, social activity embedded in the context in which it occurs. Situated cognition, cognitive apprenticeship, and communities of practice make up this theoretical perspective.

6. Critical and Postmodern Perspectives on Adult Learning (Deborah W. Kilgore).
Critical and postmodern theorists examine how the social construction of knowledge and relationships based on power intersect with learning in adulthood.

7. The Power of Feelings: Emotion, Imagination, and the Construction of Meaning in Adult Learning (John M. Dirkx).
Personally significant and meaningful learning is grounded in the adult's emotional, imaginative connection with the self and with the broader social world.

8. The Brain and Consciousness: Sources of Information for Understanding Adult Learning (Lilian H. Hill).
Principles of learning can be derived from new research on how the brain functions and new understandings of the brain's relationship to mind and consciousness.

9. Off the Beaten Path: Some Creative Approaches to Adult Learning (M. Carolyn Clark).
Two of the newest approaches to adult learning are discussed-learning through our physical body, or what is known as somatic learning, and learning through stories of our experiences, or what is called narrative knowing.

10. Something Old, Something New: Adult Learning Theory for the Twenty-First Century (Sharan B. Merriam).
This concluding chapter summarizes the various perspectives represented by chapters in this volume and finishes with an assessment of adult learning theory today.

INDEX.