The New World of Work: Challenges and Opportunities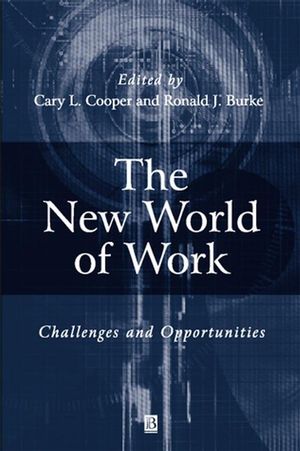 The New World of Work: Challenges and Opportunities
ISBN: 978-0-631-22279-8
Feb 2002
356 pages
Description
Containing fourteen chapters by a well-known team of contributors from North America and Europe, this text focuses on the changing conditions of work today and the challenges these pose for workers.
List of Contributors.
About the Editors.
Acknowledgments.
Introduction: The New World of Work: Ronald J. Burke (York University, Canada) and Cary L. Cooper (University of Manchester Institute of Science and Technology).
Part I: The Changing Work Environment:.
1. Organizational Transitions: Ronald J. Burke (York University, Canada).
2. Privatization and Outsourcing: Rita Campos e Cunha (Universidade Nova de Lisboa).
Part II: Changing Career Landscapes:.
3. Developmental Relationships at Work: A Learning Perspective: Douglas T. Hall (Boston University) and William A. Khan (Boston University).
4. Second Careers and Multiple Careers: Daniel C. Fieldman (University of South Carolina).
5. The Impact of Family Life on Career Decisions and Outcomes: Romila Singh (Drexel University), Jeffrey H. Greenhaus (Drexel University) and Saroj Parasuraman (Drexel University).
Part III: Changes to Jobs And Work:.
6. Contingent Work Contracts: Practice and Theory: Daniel G. Gallagher (James Madison University).
7. Reduced-Load Work Arrangements: The Changing Nature of Professional and Managerial Work: Mary Dean Lee (McGill University), Pierre-Guy Hourquet, and Shelley M. MacDermid (Purdue University).
8. Teleworking: A Primer for the Millennium Introduction: Linda Duxbury (Carleton University) and Christopher Higgins (University of Western Ontario).
Part IV: Changing Organizational Forms:.
9. The Virtual Organization: Wayne F. Cascio (University of Denver at Colorado).
10. Designing Change-Capable Organizations: Edward E. Lawler III (University of Southern California).
Part V: Comany Initiatives to Improve New Working Arrangements:.
11. Formal Mentoring: The Promise and the Precipice: Terri A. Scandura (University of Miami) and Ethlyn A. Williams (University of South Florida).
12. Self-Assessment Models and Quality/Excellence Awards: B. G. Dale (University of Manchester Institute of Science and Technology).
13. Best Practices for Advancing Women in Business Organizations: Mary C. Mattis (Catalyst, New York).
14. Towards a Culture for Work–Life Integration?: Suzan Lewis (Manchester Metropolitan University) and Jackie Dyer.
Index.
"All in all this is a useful addition to the literature that offers insights into the how's, why's, and so what's of the changing work world. While this volume is probably best suited as atext for undergraduate or graduate students of the organizational behaviour, both researchers in the field and human resources professionals will find it interesting and replete with practical suggestions. Upper-division undergraduate through professional collections." Choice, October 2002.


Focuses on the effects of current changes on workers and work, rather than on organizations as a whole.


Covers topical issues such as work-family concerns, teleworking, outsourcing and flexible work hours.


Complements and supplements Burke and Cooper's "The Organization in Crisis" (Blackwell Publishers, 2000).