The New York Public Library Amazing Space: A Book of Answers for Kids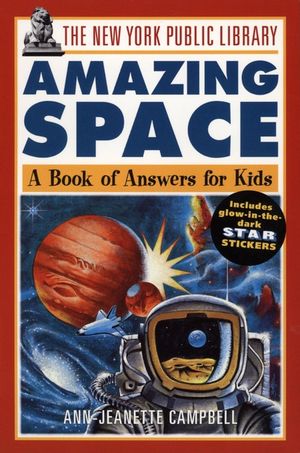 The New York Public Library Amazing Space: A Book of Answers for Kids
ISBN: 978-0-471-14498-4
Apr 1997
192 pages
Description
The New York Public Library amazing space

Travel to distant galaxies and explore awesome constellations. Discover mysterious planets and catch a comet by the tail. Find the answers to your questions about the wonders of space . . .

THE NEW YORK PUBLIC LIBRARY's best-selling reference books include The New York Public Library Desk Reference, The New York Public Library Book of Answers, and The New York Public Library Student's Desk Reference. ANN-JEANETTE CAMPBELL is the coauthor of The New York Public Library Incredible Earth.

Also in this series . . . The New York Public Library Incredible Earth
All About Astronomy.

Looking at Celestial Objects.

The Universe and Its Galaxies.

Stars and the Sun.

The Solar System.

Earth and Its Moon.

The Inner Planets: Mercury, Venus, and Mars.

The Outer Planets: Jupiter, Saturn, Uranus, Neptune, and Pluto.

Space Exploration.

Glossary.

Bibliography.

The New York Public Library's Recommended Reading List.

Index.