The New York Public Library Amazing U.S. Geography: A Book of Answers for Kids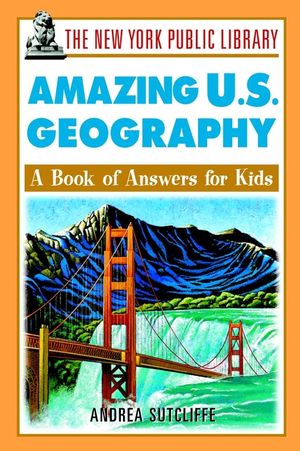 The New York Public Library Amazing U.S. Geography: A Book of Answers for Kids
ISBN: 978-0-471-39294-1 April 2002 176 Pages
Description
The New York Public Library
AMAZING U.S. Geography

Follow a chinook over the Rocky Mountains. Trace the course of theMississippi River from Minnesota to the Gulf of Mexico. Discoverwhere gold is mined and fish are farmed in the United States.Explore our fascinating nation from Alabama to Wyoming, and findanswers to all your questions about U.S. geography...

Where is the highest waterfall in the United States? See page 33.
What is a sand sea? See page 40.
Why does California have so many earthquakes? See page 41.
Why are people from new England called Yankees? See page 69.
How many U.S. presidents were born in Ohio? See page 89.
Where did the Santa Fe Trail begin? See page 96.
How large is mammoth Cave in Kentucky? See page 108.
How hot are the Hot Springs in Arkansas? See page 116.

Also in The New York Public Library Answer Books series:

Incredible Earth
Amazing Space
Amazing African American History
Amazing Hispanic American History
Amazing Women in American History
Amazing Mythology
Amazing Explorers
Amazing Scientists
Table of contents
Introduction.

PART I: THE UNITED STATES AS A NATION.

1. The United States in the World.

2. Weather and Climate in the United States.

3. Land and Water in the United States.

4. People and Places in the United States.

PART II: THE STATES.

5. New England (Maine, New Hampshire,Vermont, Massachusetts, RhodeIsland andProvidence Plantations, Connecticut).

6. The Mid-Atlantic (New York, Pennsylvania,New Jersey, Delaware,Maryland).

7. The Midwest (Ohio, Indiana, Illinois, Michigan,Wisconsin,Minnesota, Iowa, Missouri, North Dakota,South Dakota, Nebraska,Kansas).

8. The South (the District of Columbia, Virginia,West Virginia,Kentucky, Tennessee, North Carolina,South Carolina, Georgia,Florida, Alabama, Mississippi,Louisiana, Arkansas).

9. The Southwest (Oklahoma, Texas, Colorado,New Mexico,Arizona).

10. The West (Montana, Idaho, Wyoming, Utah,Nevada, California,Hawaii).

11. The Pacific Northwest (Oregon, Washington, Alaska).

Glossary.

Selected Bibliography.

The New York Public Library s Recommended Reading List.

Internet Resources.

Index.