The New York Public Library Amazing Women in American History: A Book of Answers for Kids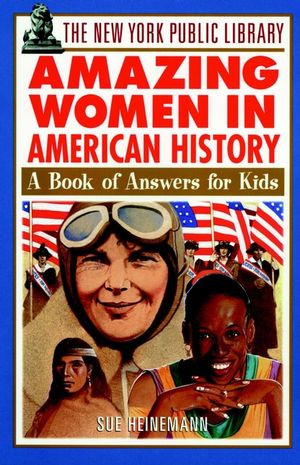 The New York Public Library Amazing Women in American History: A Book of Answers for Kids
ISBN: 978-0-471-19216-9
Apr 1998
192 pages
Description
The New York Public Library amazing women in American History

Join Susan B. Anthony's fight for voting rights. Follow Sandra Day O'Connor to the U.S. Supreme Court and Sally Ride into space. Find the answers to your questions about the amazing women in American history...

Who were the Daughters of Liberty? See page 19.

Who was the first woman to run for president? See page 79.

Who were early leaders of the women's movement? See page 38.

Who was Sojourner Truth, and how did she get her name? See page 32.

What were flappers? See page 115.

Who was Mother Jones? See page 107.

How did the National Organization for Women (NOW) begin? See page 138.

What is The Feminine Mystique, and why is it so significant? See page 139.

Also in this series . . .
* The New York Public Library Incredible Earth
* The New York Public Library Amazing Space
* The New York Public Library Amazing African American History
The First American Women (Prehistory to 1760).

Revolution and Independence (1760-1820).

Speaking Out: Against Slavery and for Women's Rights (1820-70).

The Movement West (1830-1900).

Going to School and to Work (1830-1920).

Getting the Vote and Reforming the World (1880-1929).

Surviving the Depression and World War II (1930-50).

The Push for Equal Rights (1950-79).

New Roles for Women (1980-Present).