The Nonprofit Leadership Transition and Development Guide: Proven Paths for Leaders and Organizations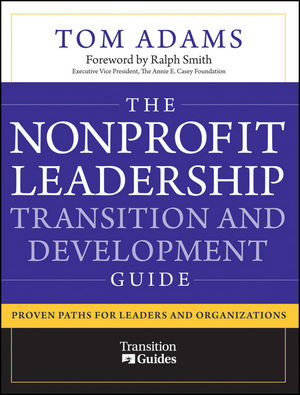 The Nonprofit Leadership Transition and Development Guide: Proven Paths for Leaders and Organizations
ISBN: 978-0-470-59984-6 July 2010 Jossey-Bass 384 Pages
Description
The Nonprofit Leadership Transition and Development Guide
In this dynamic resource, Tom Adams (an expert in succession planning who has worked with hundreds of organizations) shows how intentional leadership development and properly managed leadership transitions provide nonprofits with the rare opportunity to change direction, maintain momentum, and strengthen their capacity. This accessible guidebook is filled with illustrative stories, instructive lessons, best practices, and practical tools that can be used to ensure a successful nonprofit leadership transition.
"It is terrific to have a book which so effectively addresses the unique challenges and opportunities of leadership in the nonprofit sector, replete with sound advice and concrete examples. Tom Adams brings a wealth of experience and savvy to the topic. Paid and volunteer leaders of nonprofits at all levels will benefit from reading it."—Irv Katz, president and CEO, National Human Services Assembly
"The guide is one of its kind in providing a realistic frame for the world of nonprofit leaders. It is long overdue in the sector as a real tool for leaders. Maybe even more important, it helps nonprofit boards of directors and philanthropic organizations to understand the connection between their investment in leadership and achieving organizational goals." —Diane Bell McKoy, CEO, Associated Black Charities
"Rich with instructive examples and advice, this book is grounded in the reality of nonprofits. It will be an extraordinarily useful guide to nonprofit organizations of all types and sizes." —Ruth McCambridge, editor in chief, Nonprofit Quarterly
"Make no mistake: attracting and retaining top talent should be priority number one for the nonprofit sector. Adams's book offers practical advice for how to embed this priority into the sector's DNA. All who care about nonprofit effectiveness would be well-served to give this book a close read."—Kathleen P. Enright, president and CEO, Grantmakers for Effective Organizations
Table of contents
Foreword.
Preface.
Acknowledgments.
The Author.
Chapter 1: The Leader's Way: An Introduction.
Our Leadership Challenges.
The Leaderful Organization.
The Leader Transition Opportunity.
The Leader Development Opportunity.
How This Book Is Organized.
How to Use This Book.
Conclusion: Join the Campaign.
Reflection Questions.
Chapter 2: Managing the Power of Emotions.
Transitions and Emotions.
Handling Individual and Group Emotional Responses.
Conclusion: Emotional Awareness Opens Options.
Reflection Questions.
Chapter 3: Founders and Founder Transitions.
Understanding the Founder.
How Founders Can Build Leaderful Organizations.
Preparing the Organization for Founder Succession.
Following the Founder.
Conclusion: Founder Transition Success.
Reflection Questions.
Chapter 4: Seeking Diversity Through Leader Development.
Building Racial Diversity in Leadership.
Generational Diversity.
Conclusion: Meeting the Diversity Challenge.
Reflection Questions.
Chapter 5: Executive Transition Management.
Key Transition Decisions.
The Executive Transition Process.
The Prepare Phase.
The Pivot Phase.
The Thrive Phase.
Conclusion: Leader Development Through ETM.
Reflection Questions.
Chapter 6: Getting Started on Succession Planning.
Preparing for Succession Planning.
Create an Emergency Backup Plan.
Develop and Adopt a Succession Policy.
Conclusion: Gentle Paths to Succession Planning.
Reflection Questions.
Chapter 7. Departure-Defined Succession Planning.
Four Phases of Planning.
Conclusion: Advancing the Leaderful Organization.
Reflection Questions.
Chapter 8: Leader Development and Talent Management.
Examples of Leader Development and Talent Management.
Leader Development—Personal Commitment and Actions.
Becoming More Leaderful: Paths to Leader Development and Talent Management.
Talent Management.
Launching a Talent Management Program.
Conclusion: A Critical Leadership Strategy.
Reflection Questions.
Chapter 9: Many Paths to a Leaderful Organization.
Promising Practices.
Many Paths, Many Champions.
Enjoy the Leader's Way—and Grow the Campaign.
Appendixes.
Appendix A: Executive Transition Management Tools and Worksheets. Executive Transition Management Process Overview.
A2. The Interim Executive Advantage: An Overview of the Benefits.
A3. Where to Find an Interim Executive.
A4. Sample Transition Timeline.
A5. Sample Chief Executive Ninety-Day Entry Plan.
Appendix B: Finding and Choosing a Consultant.
B1. When to Use and How to Find a Consultant.
Appendix C: Succession Planning Tools and Samples.
C1. Sustainability Audit.
C2. Sustainability Audit Questions (Executive Transition Management Focused).
Appendix D: Leader Development and Talent Management Tools and Samples.
D1. Examples of Leader Development Learning Opportunities   .
D2. Talent Management Tools.
Appendix E: Helpful Inventories.
E1. Leader's Personal and Professional Inventory.
E2. Questions about the Organization.
E3. Diversity Inventory.
E4. The Leader's Emotional Check-in Barometer.
E5. Action Planning Notes and Commitments.
Notes.
Resources.
Index.