The Norton Anthology of American Literature, Volumes 1 & 2, Shorter 8th Edition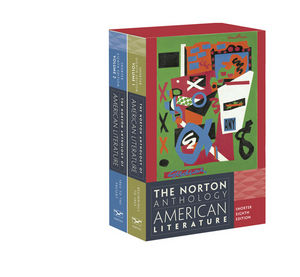 The Norton Anthology of American Literature, Volumes 1 & 2, Shorter 8th Edition
ISBN: 978-0-393-91888-5
352 pages
Product not available for purchase
Description
The most trusted anthology for complete works, balanced selections, and helpful editorial apparatus.

The Norton Anthology of American Literature, Shorter Eighth Edition, features a diverse and balanced variety of works and thorough but judicious editorial apparatus throughout. The new edition, which also newly includes much-requested authors and selections and 130 in-text images, remains an unmatched value for students.
16 COMPLETE LONGER TEXTS
The Norton Anthology of American Literature
includes more major works in their entirety than does any other anthology of American literature. The Shorter Eighth Edition includes 16 complete longer texts, two of which—Eugene O'Neill's
Long Day's Journey into Night
and Tennessee Williams's
A Streetcar Named Desire
—are exclusive to the Norton Anthology.
THE BEST BALANCE: 5 NEW AUTHORS; STRENGTHENED CLASSIC WRITERS
Charles Brockden Brown, Louisa May Alcott, Martin Luther King Jr., Art Spiegelman, and Junot Díaz are new to the Eighth Edition. At the same time, the headnotes and, in many cases, selections, for a host of frequently assigned authors—Benjamin Franklin, Washington Irving, Henry Wadsworth Longfellow, Ralph Waldo Emerson, Harriet Beecher Stowe, Mark Twain, William Dean Howells, Henry James, Kate Chopin, Willa Cather, William Faulkner, among others—have been revised, refreshed, and in some cases entirely rewritten in light of recent scholarship.
4 NEW LECTURE-LENGTH CONTEXTUAL CLUSTERS
Focused on a key cultural issue or literary form or movement, each cluster contains 10 to 15 pages of selections that tightly cohere. The Shorter Eighth Edition provides more teachable groupings of Native American selections and brand-new clusters.
VISUALLY RICH AND DYNAMIC
Over 80 black-and-white illustrations and 50 color plates enrich and contextualize the selections in the book. In addition, a generous selection from Art Spiegelman's Maus provides an example of the hybrid art of the "visual narrative." The new edition boasts a fresh, more modern display font and period-opener design that subtly refreshes the look of the page, while retaining its readability.
MORE TOOLS FOR INSTRUCTORS
The media package offers instructors the opportunity to easily incorporate media into their lectures and gives students the practical help they need to understand and appreciate literature. Students will appreciate the variety of review materials and self-assessments available on the free StudySpace site. Instructors have everything they need to bring literature alive in the classroom: a new Instructor Resource Disc featuring lecture PowerPoints, nearly 300 images, and select audio recordings; the American Passages website and video series; an extensively revised Course Guide; and a free WebCT/Blackboard coursepack.
THE APPARATUS YOU TRUST
Norton Anthologies set the standard for editorial help that's right for undergraduate readers. In the Shorter Eighth Edition, all apparatus has been freshly considered—period introductions and headnotes judiciously recast, hundreds of annotations and glosses fine-tuned, and bibliographies carefully updated—all with the goal of making these aids to reading and understanding as helpful as possible.