The Norton Field Guide to Writing, with Handbook, 3rd Edition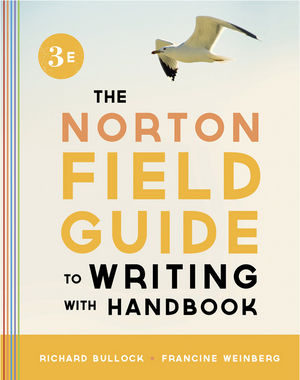 The Norton Field Guide to Writing, with Handbook, 3rd Edition
ISBN: 978-0-393-91958-5
*Norton agency titles
352 pages
Product not available for purchase
Description
Flexible, easy to use, just enough detail—and now the number-one best seller.

With just enough detail — and color-coded links that send students to more detail if they need it — this is the rhetoric that tells students what they need to know and resists the temptation to tell them everything there is to know. Designed for easy reference — with menus, directories, and a combined glossary/index. The Third Edition has new chapters on academic writing, choosing genres, writing online, and choosing media, as well as new attention to multimodal writing.

The Norton Field Guide to Writing is available with a handbook, an anthology, or both — and all versions are now available as low-cost ebooks.
Preface
How to Use This Book
Part 1: Rhetorical Situations
1: Purpose
2: Audience
3: Genre
4: Stance
5: Media / Design
*6: Writing in Academic Contexts
Part 2: Genres
7: Writing a Literacy Narrative
    *♦Emily Vallowe, "Write or Wrong Identity" 
    Marjorie Agosín, "Always Living in Spanish"
    Shannon Nichols, "Proficiency" 
    **♦Sofia Gomez, "Mother Goose in Monterrey"
8: Analyzing Texts
    *♦Hannah Berry, "The Fashion Industry: Free to Be"
    William Safire, "A Spirit Reborn"
    *Emily Nussbaum, "In Defense of Liz Lemon" 
    **Sam Anderson, "Just One More Game . . . Angry Birds, Farmville, and Other Hyperaddictive Stupid Games"
    ♦Stephanie Huff, "Metaphor and Society in Shelley's 'Sonnet'" 
9: Reporting Information
    *♦Michaela Cullington, "Does Texting Affect Writing?" 
    *Nicholas Carr, "Rural > City > Cyberspace: The Biggest Migration in Human History"
    James Fallows, "Throwing Like a Girl"
    **Matthew O'Brien, "The Strange Economics of Engagement Rings" 
10: Arguing a Position
    ♦Joanna MacKay, "Organ Sales"
    *Heather Douglas, "The Dark Side of Science"
    Lawrence Lessig, "Some Like It Hot"
    **Andrew Leonard, "Black Friday: Consumerism Minus Civilization" 
11: Abstracts
12: Annotated Bibliographies
    Michael Benton, Mark Dolan, Rebecca Zisch, "Teen Film$" 
    ♦Jessica Ann Olson, "Global Warming"
13: Evaluations
    ♦Ali Heinekamp, "Juno: Not Just Another Teen Movie"
14: Lab Reports
    ♦Sarah Thomas, "The Effect of Biofeedback Training"
15: Memoirs
    Rick Bragg, "All Over But the Shoutin'"
16: Profiles
    *♦Christian Danielsen, "Paperclip Man"
17: Proposals
    Michael Granof, "Course Requirement: Extortion"
18: Reflections
    Jonathan Safran Foer, "My Life as a Dog"
19: Résumés and Job Letters
20: Mixing Genres 
    Anna Quindlen, "Write for Your Life"
*21: Choosing Genres
Part 3: Processes
22: Writing as Inquiry
23: Collaborating
24: Generating Ideas and Text
25: Drafting
26: Assessing Your Own Writing
27: Getting Response and Revising
28: Editing and Proofreading
29: Compiling a Portfolio
Part 4: Strategies
30: Beginning and Ending
31: Guiding Your Reader
32: Analyzing Causes and Effects
33: Arguing
34: Classifying and Dividing
35: Comparing and Contrasting
36: Defining
37: Describing
38: Dialogue
39: Explaining Processes
40: Narrating
41: Reading Strategies
42: Taking Essay Exams
Part 5: Doing Research
43: Developing a Research Plan
44: Finding Sources
45: Evaluating Sources
46: Synthesizing Ideas
47: Quoting, Paraphrasing, and Summarizing
48: Acknowledging Sources, Avoiding Plagiarism
49: Documentation
50: MLA Style
51: APA Style
Part 6: Media / Design
*52: Choosing Media
*53: Designing Text
*54: Using Visuals
*55: Writing Online
Handbook
Sentences
Complete Sentences
Sentence Fragments 
Comma Splices, Fused Sentences
Verbs
Subject-Verb Agreement
Pronouns
Parallelism
Coordination and Subordination
Shifts
Language
Appropriate Words
Precise Words
Commonly Confused Words
Unnecessary Words
Adjectives and Adverbs
Articles
Words That Build Common Ground
Punctuation/Mechanics 
Commas
Semicolons
End Punctuation 
Quotation Marks
Apostrophes
Other Punctuation Marks
Hyphens
Capitalization
Italics
Abbreviations
Numbers
Glossary / Index
MLA and APA Directories
Handbook Menu
* New to the third edition
** Multimodal writing
♦ Student writing
USER-FRIENDLY, WITH JUST ENOUGH DETAIL
Tells students what they need to know, but resists the urge to tell them everything there is to know. Chapters are short and to the point, with color-coded links that send students to pages where they can find more detail if they need more. Menus, directories, documentation templates, and a unique glossary/index make it easy for students to find information quickly and efficiently.
UNIQUELY FLEXIBLE
With short chapters on every topic, this book supports any pedagogical approach. Instructors can focus on genres, strategies, the writing process, or the readings. Short chapters can be assigned in any order — and the color-coded links help draw from other chapters as needed.
NEW CHAPTERS ON ACADEMIC WRITING, CHOOSING GENRES, WRITING ONLINE, AND CHOOSING MEDIA
Chapter 6 discusses the conventions and expectations of academic writing 
Chapter 21 is on choosing genres, providing help for students with assignments that don't specify a genre. 
Chapter 55 offers guidance on writing online, including helpful advice for students who are taking classes partially or entirely online. 
Three chapters on media and design have been expanded to provide more guidance for students who are now routinely working with media and images.
NEW ATTENTION TO MULTIMODAL WRITING
Chapter 52 describes the various media students now have available, helps them think about what they can and cannot do with each one, and includes guidance on multimodal writing. Multimodal readings have been added throughout the book, including one in each chapter of the anthology.
AN INTUITIVE, EASY-TO-USE HANDBOOK
The handbook is organized around Sentences, Language, and Punctuation/Mechanics, making it easy for students to find what they're looking for. Color-coded links refer students to the glossary/index for definition of key terms if they need them, so there's no overload of terminology.
NEW MEDIA RESOURCES
Norton Coursepacks are available for Blackboard, D2L, Sakai, Moodle, Canvas and other popular learning management systems. Customizable Coursepacks are free for students and adopters and include diagnostic quizzes and grammar exercises that report to the LMS gradebook. Model student essays, plagiarism tutorials, PowerPoints, animated videos, and citation exercises are also included.
Norton/write is a free-and-open-access website that allows students to practice grammar, punctuation, and mechanics.
A new online commenting program called Fred allows professors to insert comments on students' papers and allows students to share their papers for peer review. Especially useful for online courses, Fred will allow anyone to add video or audio comments with a click of the mouse. In addition, Fred will include a robust menu of preset frequently used comments that will link to relevant sections in Norton's online handbook, and it will allow instructors to write and save comments of their own. Fred can be packaged at an additional charge with any version of The Norton Field Guide.