The Official Alibaba.com Success Guide: Insider Tips and Strategies for Sourcing Products from the World's Largest B2B Marketplace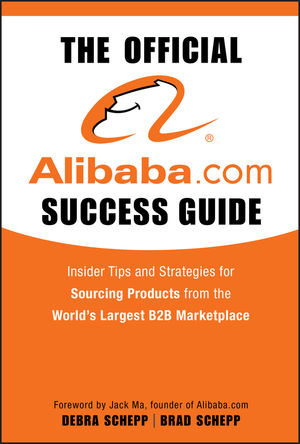 The Official Alibaba.com Success Guide: Insider Tips and Strategies for Sourcing Products from the World's Largest B2B Marketplace
ISBN: 978-0-470-57311-2
Dec 2009
288 pages
Description
The official guide to making a bundle buying and selling through Alibaba.com, the world's largest online B2B marketplace

Alibaba.com is the world's leading global business-to-business online marketplace. People around the world use it every day to import and export products for big profits. But newcomers are often overwhelmed by the sheer number of products and the quantity of information available.

The Official Alibaba.com Success Guide shows you how to ramp up your business or build an entirely new business, using the Alibaba.com brand and web site as your supplier. This practical guide provides simple answers for complex questions, from navigating the site, to finding products at the right price, to branding, and much more. Plus, the book includes best practices for importing, locating and vetting suppliers, and protecting yourself against online fraud.

    • An answer-packed guide  for all your questions about doing business through Alibaba.com



    • Officially licensed and supported by Alibaba.com, this is the only guide you need

• Includes inspirational profiles of people who have used Alibaba.com successfully to launch new businesses or revive old ones

    • The first and only step-by-step guide to using Alibaba.com effectively

Alibaba.com gives you the opportunity to make real money online. Here, you'll find a wealth of inside information that will help you use Alibaba.com safely and profitably.
Foreword Jack Ma, Founder of Alibaba.com.
Acknowledgments.
About the Authors.
Preface.
Part I Alibaba.com: The Opportunity.
Chapter 1 Alibaba.com Opens the Door to Global Trade.
First a Little History.
Alibaba.com's Corporate Goals and Values.
Alibaba.com's Six Core Values.
Alibaba.com Today.
Alibaba.com Corporate Structure.
Alibaba.com's Programs, Tools, and Events.
Alibaba.com's 2008 e-Business Champion of the Year: Gene Rumley.
Chapter 2 International Sourcing: This Isn't Kansas Anymore.
International Sourcing: Your Challenge and Promise.
Your First Sourcing Decision.
Let's Put First Things First.
Get a Tax ID Number and Register Your Business.
Develop Your Product Idea.
Build Your Prototype.
Create and Test-drive Your Business Plan.
Create a Business Calendar.
Product Sourcing Basics.
Calculate Your Budget.
Safety Checks for Sourcing Products.
Sourcing Internationally: New Challenges and Rewards.
Leaving Kansas: Alibaba.com Opens a World of Opportunity.
Importing Your Products.
Chapter 2 Checklist.
Chapter 3 Keys to Successful Importing.
Your Education Begins.
Your Partner's Responsibilities and Your Own.
Terms You Need to Know.
Standards, Certifications, and Regulations.
Partners Who Can Help You.
Who Are the Major Players?
Can You Keep It Simple?
Chapter 3 Checklist.
Part II Putting Alibaba.com to Work for You.
Chapter 4 The Alibaba.com Web site.
Let's Start at the Home Page.
Trade with the World.
Keep Scrolling.
Inspirational Success Stories.
Alibaba.com Partners.
Don't Underestimate the Bottom of the Page.
Let's Get You Registered.
Download TradeManager.
A Tour of Alibaba.com's Links.
Buy.
Sell.
Community.
My Alibaba.
Help.
Alibaba.com's Search Engine.
Chapter 4 Checklist.
Chapter 5 Finding Business Partners.
You Are the Boss, So It's All Up to You.
Education through Experience.
Establish Realistic Expectations for Your Suppliers.
Set Criteria for Your Products Themselves.
Build In Your Own Safety Checks.
Fraud: Forewarned Is Forearmed.
Qualify and Identify.
Qualify and Legitimize.
Let's Find Some Manufacturers.
Searching for Partners.
Posting a Buying Lead.
Those First Few E-mails.
Vetting Prospective Partners.
Do You Like Their Attitudes?
Quantify Them to Qualify Them.
Communication, Communication, Communication!.
Should You Travel to China or Anywhere Else?
Chapter 5 Checklist.
Chapter 6 Working with Your Suppliers.
A Two-sided Partnership.
Alibaba.com Can Help You Learn.
Getting Your Products Right.
Get Graphic.
Ask for Samples.
What to Do When Things Go Wrong.
Chapter 6 Checklist.
Chapter 7 Closing the Deal.
Getting the Details Right.
Your Pro Forma Invoice.
Payment Schedules and Options.
Spread Out Your Payments.
Wire Transfers.
Escrow Services.
Letters of Credit.
Shipping Details.
Forge Good Relationships.
Bill of Lading: The Final Document.
Chapter 7 Checklist.
Chapter 8 Safe Trading.
Educate Yourself.
Alibaba.com's Safety & Security Center.
Safe Trading Forums.
Other Web-based Resources You Can Use.
Keeping Your Computer Safe.
Security Help Available through Alibaba.com.
Create Your Own Alibaba.com Sign-in Seal.
E-mail Fraud.
Trojans and Viruses.
Protecting Your Computer.
Chapter 8 Checklist.
Chapter 9 Keeping the Pipeline Full.
Your Customers Will Change Your Business.
Your Partnerships Will Change Your Business.
When You Are Ready to Travel, Get In Touch.
Your Expertise Will Change Your Business.
What Will You Do with Your Expertise?
Turn Those Tables and Sell to the World.
Alibaba.com's Selling Links and My Alibaba Selling Tools.
Now Is the Time to Consider a Paid Account.
Your Uncle Sam Stands Ready to Help.
Chapter 9 Checklist.
Part III Alibaba.com Success Stories.
Gene Rumley—Bell Performance, Inc..
Valarie Moody—Fodeo.net.
Allison Taylor—Jack Webster, Inc..
Mary Miller Pembleton and Gregg Pembleton—Thumball by Answers In Motion, LLC.
Joshua Crumbaugh—Platinum Mortgage, Inc..
Valerie Johnson—Big Feet Pajama Company.
Index.