The Oliver Wight Class A Checklist for Business Excellence, 6th Edition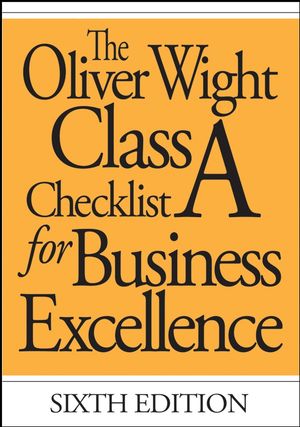 The Oliver Wight Class A Checklist for Business Excellence, 6th Edition
ISBN: 978-1-118-04059-1
Dec 2010
240 pages
Product not available for purchase
Description
The Oliver Wight Class A Checklist for Business Excellence

The leading business improvement specialists who educate, coach and mentor people to lead and sustain change on the journey to business excellence and outstanding business performance
* Managing the Strategic Planning Process
* Managing and Leading People
* Driving Business Improvement
* Integrated Business Management
* Managing Products and Services
* Managing Demand
* Managing the Supply Chain
* Managing Internal Supply
* Managing External Sourcing
Preface.
Introduction.
Foundation.
How to use the Checklist.
1. Managing the Strategic Planning Process.
2. Managing and Leading People.
3. Driving Business Improvement.
4. Integrated Business Management (Sales & Operations Planning).
5. Managing Products and Services.
6. Managing Demand.
7. Managing the Supply Chain.
8. Managing Internal Supply.
9. Managing External Sourcing.
Oliver Wight Biography.