The Olympic Games Effect: How Sports Marketing Builds Strong Brands, 2nd Edition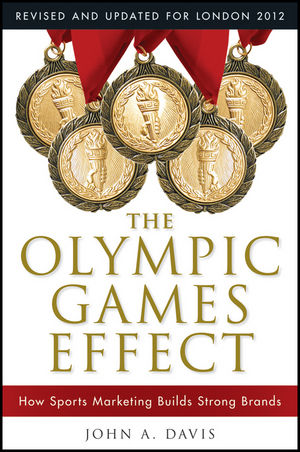 The Olympic Games Effect: How Sports Marketing Builds Strong Brands, 2nd Edition
ISBN: 978-1-118-17168-4 March 2012 256 Pages
Description
Marketing at the Olympics, the attraction and the rewards
Essential reading in preparation for the 2012 London Olympics, the newly revised and fully updated second edition of The Olympic Games Effect offers fascinating sports marketing and branding insights into the promotion of the Games themselves, and their unique attraction for corporations in particular.
The important lessons of past Olympics will be used to show a hundred year-plus tradition based on a several thousand year old testament to the love of sports and competition, revealing how, in recent years, this has evolved into a seductively attractive vehicle for a wide range of audiences, from consumers to corporations.
Loaded with historical information on the Olympics, the book traces the history of the Olympics back to 776 BC. This legacy is vital to the ongoing success of the Olympics, and is at the heart of why brands care so much
Packed with illustrations that illustrate how the Games have become arguably the world's most successful sports event and the marketing opportunities this has led to
Includes relevant business strategies and recommendations to help companies understand how to make more effective sports sponsorship decisions
This timely new edition of The Olympic Games Effect shows the value contributed by sponsoring the world's premier sporting event, and explains how, by extension, other global sports events have the potential to generate similarly impressive results for their sponsors.
Acknowledgments ix
Introduction xi
Section I HISTORY, LEGACY, TRADITION
Chapter 1 The Olympic Dream 3
Chapter 2 The Olympic Experience 15
Chapter 3 The Olympic Dynamics 35
Chapter 4 The Olympic Host Cities 47
Chapter 5 Section I Sponsorship Preparation Questions 115
Section II SUCCESS AND ACHIEVEMENT
Chapter 6 The Olympic Stage 129
Chapter 7 The Olympic Halo 145
Chapter 8 The Olympic Spirit 159
Chapter 9 Section II Sponsorship Preparation Questions 169
Section III CONTROVERSY AND CHALLENGE
Chapter 10 The Olympic Challenges 175
Chapter 11 Section III Sponsorship Preparation Questions 185
Section IV REPUTATION DEVELOPMENT
Chapter 12 The Olympic Opportunity 189
Chapter 13 The Olympic Sponsor Case Brief: Acer 221
Chapter 14 The Olympic Sponsor Case Brief: Samsung 227
Chapter 15 The Olympic Sponsor Case Study: Coca-Cola 235
Chapter 16 The Olympic Sponsor Case Study: Visa 245
Chapter 17 Section IV Sponsorship Preparation Questions 261
Section V OLYMPIC MARKETING VICTORY
Chapter 18 The Olympic Fans 267
Chapter 19 The Olympic Creative Execution 295
Chapter 20 The Olympic Marketing Communications 313
Chapter 21 The Olympic Sponsorship Checklist 337
Chapter 22 The Olympic Sponsorship Lessons 341
Chapter 23 Section V Sponsorship Preparation Questions 345
About the Companion Web Site 349
Notes 351
Index 385
"John Davis' book,
The Olympic Games Effect
, made a key contribution to understanding the economics of the Olympics, marketing of the Olympics, and the Olympic Games as a brand. The second edition of this important and readable volume offers new case studies and insights on social media. It should be required reading for corporate marketers tied to sport."
—
Glenn Hubbard
, Dean and Russell L. Carson Professor of Finance and Economics, Columbia Business School
"Olympic marketing is fundamentally different from what is taught in traditional marketing texts, which is why this book is such a welcome addition to marketing knowledge. This edition contains updates with new observations from the Beijing and Vancouver Olympics. It explores the significance of the latest shifts in marketing derived from such trends as the rise in social media."
—Lynn Kahle, Giustina Professor and Head, Dept. of Marketing, Lundquist College of Business, University of Oregon
"The sponsorship of the Olympics has been a critical part of the marketing success of many global companies including Samsung. As South Korea prepares for the 2018 PyeongChang Winter Olympics Samsung and scores of potential sponsors will be debating the right strategy on how to leverage those Games to help communicate their brands. Worry no more as John Davis' The Olympic Games Effect will become the key 'go to' resource for these companies."
—Dae Ryun Chang, Professor of Marketing, Yonsei University
"As a fellow International Olympic Academy faculty member and professor of sport management, I can write that John Davis' book should stand as a required companion piece to Dick Pound's Inside the Olympics in helping a very wide population grasp the Olympic Games' magnitude and global importance. The Olympic Games Effect is well written, thoroughly researched, and greatly adds to the canon of Olympic literature. It is heroic, like a true Olympian, in its commitment and achievement."
—Rick Burton, David B. Falk Professor of Sport Management at Syracuse University and author of the historical thriller The Darkest Mission
"Just follow John Davis into the fascinating world of the Olympic Games and the enormous potentials they offer as a powerful global brand. Learn more about the opportunities and risks of Olympic sponsorship and how the pure idea and image of the Olympic Games create value for everyone involved."
—Professor Dr. Anton Meyer, Head of Marketing Department, Munich School of Management, LMU