The Online Advertising Playbook: Proven Strategies and Tested Tactics from the Advertising Research Foundation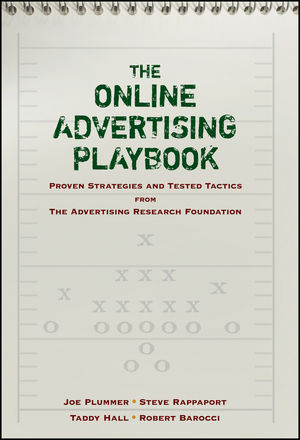 The Online Advertising Playbook: Proven Strategies and Tested Tactics from the Advertising Research Foundation
ISBN: 978-0-470-14035-2 July 2007 320 Pages
Description
Praise for The Online Advertising Playbook
"Finally, someone has documented all we know about online advertising and how to do it right. As much as this confirms that online advertising really works, we know that marketers don't always get it right. The ARF's The Online Advertising Playbook provides critical insight on what sticks and what doesn't in online advertising and marketing."
—Greg Stuart, CEO and President, Interactive Advertising Bureau and coauthor of What Sticks
"The Online Advertising Playbook's principles, case studies, and strategic insights equip marketers with the best knowledge available. It will help your online advertising achieve the full range of marketing objectives, from lead generation and customer acquisition to driving trial and loyalty."
—Tim Kopp, Vice President, Global Interactive Marketing, The Coca-Cola Company
"To grow interactive marketing from here we need to institutionalize our wisdom and experience about what works. This book explains, in a disciplined way, what marketers have learned from a decade of massive change."
—Ted McConnell, Interactive Innovation Director, Procter & Gamble
"The Online Advertising Playbook is a milestone in the maturation of interactive advertising, but also an invaluable go-to guide for managers trying to make smart decisions with their advertising budgets."
—Van Riley, Vice President of Research, AOL
"The best marketing communication is spawned from what I call 'informed intuition.' After reading The Online Advertising Playbook, I am far better informed on how to optimize the online channel in our advertising and promotional programs. It's a perfect blend of case studies and research-backed learning."
—Rod DeVar, Manager, Advertising and Promotion, United States Postal Service
"Savvy marketers should take advantage of The Online Advertising Playbook's findings and principles to get real results."
—Chris Theodoros, Director of Industry Relations, Google
"A work of wisdom and rigor in the digital space that is as relevant for the newbie as it is for the digerati."
—Mike Donahue, Executive Vice President, American Association of Advertising Agencies
"This is a must-read for any marketing executive involved in online advertising. It's high time that a book looks at online advertising in the context of an integrative promotional strategy, one meant to set objectives, establish creative strategies, and measure results. The book nicely ties the various components of online advertising to relevant case studies, and the emphasis on measurement and results is refreshing. Not only is it relevant for marketing executives, it would also be a good basic text for any Internet advertising course and a good adjunct to any Internet marketing course."
—Henry Assael, Professor of Marketing, Stern School of Business, New York University
Acknowledgments ix
Sponsors' Acknowledgments xiii
CHAPTER 1 Introduction 1
CHAPTER 2 Targeting Approaches: A Unique Element in Online Advertising 7
Demographic Targeting
Contextual Targeting
Behavioral Targeting
Geographic Targeting
Daypart Targeting
Affinity Targeting
Purchase-Based Category Targeting
Key Considerations in Online Targeting
Winning Plays
CHAPTER 3 Online Advertising Reach and Frequency Concepts 33
Strategies for Managing Online Reach and Frequency
Experience with Frequency of Online Advertising
Interplay of Reach and Site Visiting
Winning Plays
CHAPTER 4 Winning Strategies in Online Advertising 51
Generate Leads and Acquire Customers
Generate Brand Preference to Stimulate Sales
Brand Growth, Rewards, and Loyalty
CHAPTER 5 Display Advertising Online: What to Choose? 81
Standard Online Advertising Formats
Creative Factors That Influence Display Advertising Effectiveness
Rich Media Advertising on Broadband
Online Video Advertising
Games: An Emerging Online Advertising Medium
Pay Attention to Online Advertising Clutter
Winning Plays
CHAPTER 6 The Connection of Online Search and Advertising 101
Portrait of the Online Searcher
Consumers Search for Personally Relevant Information
Search Is a Journey
Paid Search Advertising Spending
Search Engine Marketing Techniques
Appeals of Natural Listings: Organic Search Engine Optimization
Paid Inclusion
Measuring Search Engine Marketing Campaigns
Strategies for Effective Paid Placement Advertising
Winning Plays
CHAPTER 7 Online Shopping and Buying 133
Retail Sales and E-Commerce
The Multichannel Marketplace
Today's Online Shopper Profile
The Importance of User-Friendly Shopping Sites
Routes to the Cash Register Are Multichannel
Smart Research Strategies for Retail Growth
Winning Plays
CHAPTER 8 Advertising Personally: Email and Word of Mouth 151
Win the In-Box Battle
Email Influences Consumer Purchasing
Advertiser Spending on Email
Email for Relationship Building
Word of Mouth
Measuring Word of Mouth
Winning Plays
CHAPTER 9 Futures 173
A Look Ahead at Emerging Plays
Comments on the Future
Jeff Cole, University of Southern California
Vincent Barabba, Market Insight Corporation
Bobby J. Calder, Kellogg School of Management
Joanne Bradford, Microsoft
Greg Rogers,TACODA
Rishad Tobaccowala, Denuo
Dan Stoller and Jane Clarke,Time Warner Global Marketing
Noel Capon and Jeremy Kagan, Columbia University
Brian McAndrews, aQuantive
David Kenny, Digitas
APPENDIX Online Audience and Advertising Effectiveness Measurement 205
Offline Audience Measurement
Online Audience Measurement
Online Campaign Measurement
Site-Side Analytics
Brand Measurement
Emerging Measurement
Business Metrics for Online Advertising
Winning Plays
Glossary 233
References 265
Index 291
About the Authors 301
This book answers some of the most pressing questions marketers face today:

What are the right measures of effectiveness?

What are the creative principles when designing different types of online ads?

How can online advertisers set and allocate the right budget? 

How does the Internet work with other media?

How do marketers select the right agency partners? 
"This book is packed with great examples of how major brands have used digital media...backed up with excellent research." (International Journal Of Advertising, January 2008)