The Option Advisor: Wealth-Building Techniques Using Equity & Index Options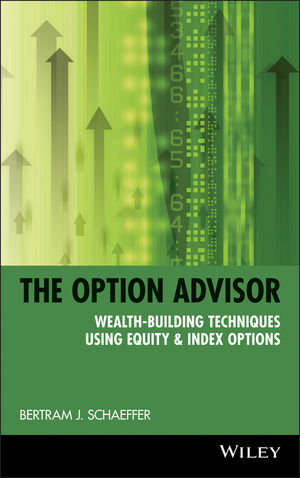 The Option Advisor: Wealth-Building Techniques Using Equity & Index Options
ISBN: 978-0-471-18539-0 October 1997 336 Pages
Download Product Flyer
Download Product Flyer
Download Product Flyer is to download PDF in new tab. This is a dummy description. Download Product Flyer is to download PDF in new tab. This is a dummy description. Download Product Flyer is to download PDF in new tab. This is a dummy description. Download Product Flyer is to download PDF in new tab. This is a dummy description.
Description
Acclaim for Bernie Schaeffer's expert approach to options trading.

"Bernie Schaeffer's penchant for contrary investing is terrific, and his market calls on that strategy have been excellent. He shows how to apply contrary thinking-and many other types of 'expectational analysis'-to option strategies. All option traders should enjoy reading this book." -Lawrence G. McMillan President, McMillan Analysis Corp. Author, Options as a Strategic Investment and McMillan on Options.

"A superb book that will benefit both stock and options investors. It blends technical analysis, fundamentals, investor psychology, and strategy to come up with an excellent approach to the markets. A good read for the investor seeking new trading ideas in today's fast moving markets." -Leo Fasciocco Stock Market Columnist, Investor's Business Daily.

"A breath of fresh air for options traders. Most options books are textbook in nature. Schaeffer cuts right to the chase and provides solid ideas on how to use options effectively for both conservative and trading-oriented investors. It's innovative and fresh. Get a copy." -Thomas J. Dorsey President, Dorsey Wright & Associates Author, Point & Figure Charting.

When nationally renowned options expert Bernie Schaeffer talks, everyone listens. A "Market Maven" on CNBC, a frequent guest on CNN, and a top-rated Timer Digest market timer for the past decade, he has also been a featured speaker at numerous investment conferences. His views on the stock market and the economy are regularly quoted in the Wall Street Journal, the New York Times, Barron's, and Investor's Business Daily. Thousands of subscribers eagerly await each issue of his Option Advisor newsletter, and when he distills his decades of knowledge and experience-as he does in this remarkable book-savvy investors everywhere pay close attention.

In The Option Advisor: Wealth-Building Strategies Using Equity and Index Options, Schaeffer offers his own carefully tested, prudent, and profitable strategies for trading options. He begins by dispelling outdated folklore and beliefs about the options world, and reveals instead how options can be used as an inexpensive, leveraged vehicle for profiting from the movement in an equity. With clarity and logic, he explains the basic principles of options trading, emphasizing, in particular, why options cannot be traded like stocks-a very common and potentially very costly mistake.

Schaeffer delves into the psychology of options trading, demonstrating how to distinguish between "high" and "low" expectation stocks, how to measure sentiment, and how to master the valued Contrary Opinion Theory for successful trading. He shares his wealth-building techniques for selecting the right stocks, assessing risk, managing your options portfolio, and, most important, for reading market timing indicators. What The Option Advisor boils down to is expert guidance on managing your money, while avoiding the most common errors of options trading.

In a detailed section on applications, Schaeffer gives you practical, hands-on advice on how to use a full array of real-world trading strategies, including quick trades, aggressive trading strategies, conservative approaches, portfolio protection, and the increasingly popular Long-term Equity AnticiPation Securities (LEAPS). With characteristic thoroughness, Schaeffer also offers invaluable information on selecting an options broker, opening an options trading account, and doing research on the Internet.

From the novice to the experienced investor, The Option Advisor offers a gold mine of information on how to achieve success in options trading.
Table of contents
THEORY AND FOUNDATION.

Expectational Analysis.

Selecting the Right Stock.

Options Basics: The Psychology and Dynamics of Profitable Options Investing.

Managing Your Options Portfolio to Maximize Reward and Minimize Risk.

Market Timing Indicators and Techniques.

APPLICATIONS.

Aggressive Option Trading Strategies.

Quick Trade.

LEAPS.

Conservative Approaches to Options Trading.

Selecting an Options Broker and Establishing an Options Trading Account.

Navigating the Internet.

Contrarianism Revisited.

Appendices.

Index.