The Other 80 Percent: Turning Your Church's Spectators into Active Participants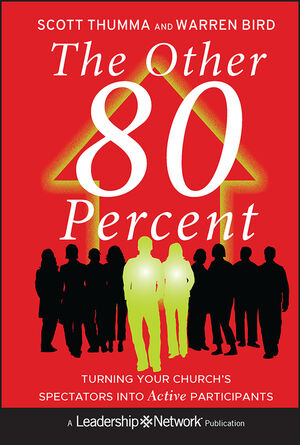 The Other 80 Percent: Turning Your Church's Spectators into Active Participants
ISBN: 978-1-118-02536-9
Apr 2011
224 pages
Description
A research-based approach to developing more active and involved congregations
In this practical resource, well-known and respected researcher Scott Thumma and professional co-writer Warren Bird draw upon new and heretofore unpublished research across a broad range of Protestant churches of all sizes and show how to create more active members. Offers solid information of what church leaders need to know about the factors and practices that create church members who are more actively and passionately involved in their congregations.
Offers a first of its kind resource for developing engaged congregations
Lead author Scott Thumma is a noted researcher and writer on congregational studies
Warren Bird is coauthor of Culture Shift and Viral Churches
This book offers advice for moving church members from being spectators to living a life of discipleship and faith.
About the Jossey-Bass Leadership Network Series.
Preface.
Introduction: Wandering Sheep.
Part One: Listening.
1: What Do You Hear from the Committed 20%?
2: What Do You Hear from the Less-Committed 80%?
3: How to Create a Listening Team.
Part Two: Learning.
4: Cultural Causes of the 80/20 Problem.
5: Comparative Patterns in Churches.
6: Misinformed Efforts to Build Participation.
7: How to Create a Learning Team.
Part Three: Leading.
8: Start with What You Do Well.
9: Create More Ways for People to Participate.
10: Reach Toward Spiritual Growth and Development.
Afterword: The Sheep Who Came Back into the Fold.
Appendixes.
A. Resources.
B. Methods and Description of the Datasets.
C. Sample Survey Questions.
Annotated Bibliography.
Acknowledgments.
The Authors.
Index.