The Other Calling: Theology, Intellectual Vocation and Truth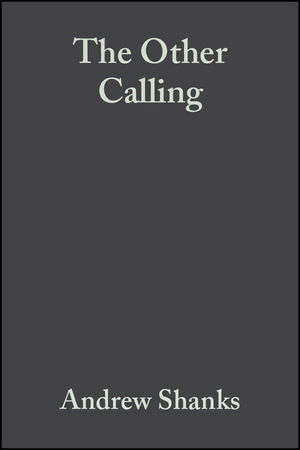 The Other Calling: Theology, Intellectual Vocation and Truth
ISBN: 978-0-470-77410-6 February 2008 Wiley-Blackwell 248 Pages
Description
What is the true calling of the intellectual? In this provocative new book, Andrew Shanks presents a distinctive fresh answer.
The Other Calling
is a systematic riposte both to the elitism of philosophy in the heritage of Plato, and to the typical individualism of Plato's philosophic opponents. Here, instead, intellectual integrity is identified with a form of priesthood.


Asserts that intellectuals are critical to bringing together the common aspirations of a community


Offers a strikingly original approach to the moral and political aspects of theology's relationship with philosophy, exploring the perspectives of both disciplines

Draws on the work and thought of Christians, Muslims, Hindus, Buddhists, Agnostics, and Atheists

Argues for a new, religiously multicultural "priesthood of all thinkers", considering how once, all intellectuals were as a matter of course also priests

Published in the new and prestigious Illuminations series
Table of contents
Introduction: Why Theology? / What is an Intellectual?.
PART I: PHILOSOPHY.
1. The Incompleteness of Philosophy Alone.
2. Philosophy and Folk Religion: Two 'Forms' for a Single 'Content'.
3. 'Philosophic Politics' (i): Strauss amongst 'the Moderns' and 'the Postmoderns'.
4. 'Philosophic Politics' (ii): Strauss and 'the Ancients'.
5. Anti-Philosophical Philosophy (i): Kojève's Critique of the 'Cloistered Mind'.
6. Anti-Philosophical Philosophy (ii): Epicurus, Rousseau.
PART II: THEOLOGY.
7. Beyond Metaphysics: 'the Science of the Sacralisation of Honesty, in Theist, Catholic form'.
8. Coleridge's Notion of the 'Clerisy'.
9. Sacramentally Framed Thought.
10. 'The Conflict': From Amos to Hegel, and Girard.
11. What is an Intellectual? / Why Theology?.
Notes.
Index
Reviews
"This book is a brave counter to both anti-intellectualism and intellectual élitism, and would be worth buying simply for the opening and closing chapters, where the essentials of the argument are clearly articulated. Nevertheless, those who wish to overhear the author coming to his conclusions in conversation with the likes of Plato, Hegel, Leo Strauss, Alexandre Kojève, Coleridge, and Girard will find the intervening chapters intellectually demanding, but also consistently enlightening." Church Times
Features


A provocative and unique book which questions what the true calling is of the intellectual, identifying intellectual integrity with a form of priesthood

Asserts that intellectuals are critical to bringing together the common aspirations of a community

Offers a strikingly original approach to the moral and political aspects of theology's relationship with philosophy, exploring the perspectives of both disciplines

Draws on the work and thought of Christians, Muslims, Hindus, Buddhists, Agnostics, and Atheists

Argues for a new, religiously multicultural "priesthood of all thinkers", considering how once, all intellectuals were as a matter of course also priests

Published in the new and prestigious Illuminations series