The PPLI Solution: Delivering Wealth Accumulation, Tax Efficiency, and Asset Protection Through Private Placement Life Insurance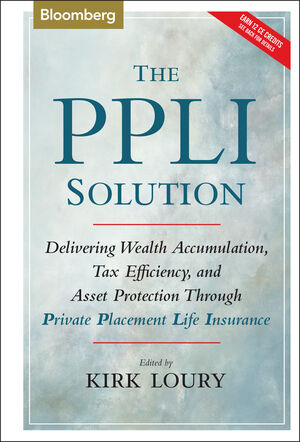 The PPLI Solution: Delivering Wealth Accumulation, Tax Efficiency, and Asset Protection Through Private Placement Life Insurance
ISBN: 978-0-470-88497-3 July 2010 400 Pages
Description
Private placement life insurance (PPLI) was once the exclusive domain of wealthy investors willing to tackle the logistical challenges of the offshore insurance market. The investment portfolio, tax, and estate-planning applications, and ongoing investment potential of these policies made the effort worthwhile. In recent years, though, a number of U.S.-based insurance companies have developed similar policies that meet all U.S. insurance, investment, and tax regulations.

PPLI is becoming a fundamental component of effective tax, trust, and estate planning, but few sources have been available to detail the best practices—until now. The PPLI Solution can serve as a resource for effective execution. Written by leading practitioners, the book will position advisers to capitalize as PPLI expands further into the high-net-worth market and becomes available to individuals with an investable net worth as low as $1 million.

Few investors—whatever their net worth—will want to venture into the PPLI market without guidance. The PPLI Solution addresses the needs of investment managers, consultants, attorneys, and accountants who want to achieve the broad understanding of PPLI's applications required of those providing advice. It can serve as an authoritative source for anyone—including investors—seeking to know more about PPLI's nearly perfect tax efficiency, solid creditor protection, and powerful means of creating wealth.
Preface.
About the Contributors.
Part One: The Multipurpose Policy.
1 An Introduction to PPLI (John B. Lawson).
2 Risk Management: Redefining Safe Harbors (Jeremiah Riddle).
3 Tax Management: Building Wealth, Reducing Taxes (Jeffrey S. Bortnick).
4 Asset Protection: Riches Out of Reach (Gideon Rothschild and Daniel S. Rubin).
5 Estate Planning: When Insurance Tames Taxes (Mike Chong).
6 Trust Administration: The Domestic Advantage (Al W. King III and Pierce H. McDowell III).
7 Executive Benefits: The Plan That Pays Its Way (Leslie N. Brockhurst).
Part Two: A Vital Investment Vehicle.
8 Toward a More Powerful Portfolio (Kirk Loury).
9 Who's Afraid of Hedge Funds? (George Van and Daniel T. Hayden).
10 In Search of Skilled Investment Managers (Ronald J. Surz).
Part Three: Under the Hood—The Essentials on PPLI.
11 Policy Structure: The Good, the Bad, the Ugly (Paul F. Berlin).
12 Getting It Right: A Regulatory Overview (Maureen Nelson).
13 Investment Due Diligence: Beyond the Questionnaire (Keven de la Cruz).
14 Creating and Administering an Insurance-Dedicated Fund (Brent Kinetz).
15 Underwriting the Policy (Mike Chong and Anne Melissa Dowling).
16 Understanding and Comparing Costs (Susan Bruno).
17 Jurisdiction: Home or Away? (Peter M. Williams).
Part Four: Setting Up Shop.
18 Making a Place in Private Banking (Richard Brindisi).
19 The Family Office: A Perfect Fit (Kirk Loury and Mark Watson).
Continuing Education Exam.
Index.