The Pain-Free Program: A Proven Method to Relieve Back, Neck, Shoulder, and Joint Pain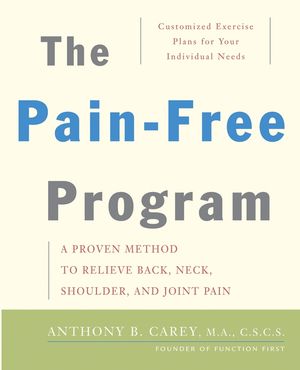 The Pain-Free Program: A Proven Method to Relieve Back, Neck, Shoulder, and Joint Pain
ISBN: 978-0-471-68720-7
Sep 2005
264 pages
Product not available for purchase
Description
"Anthony Carey hits the bull's-eye! Striving for a pain-free lifestyle is a goal we all want to achieve, and this book is a powerful tool to help you attain it."
--Bradford Stiles, M.D., Medical Director of California Sports & Industrial Medical Center

"Anthony Carey's unique approach to promote the proper function of the whole body in order to support and heal the problematic area delivered the results that made me a lifetime believer. I continue to utilize Anthony's techniques to train and heal my body every day. I only wish I would have found his program earlier in my career."
--Erik Kramer, former NFL Quarterback

An innovative, therapeutic exercise program to stop the pain for good

If you're one of the millions who suffer from chronic back, neck, shoulder, and joint pain, all you can think about is relief. Now, exercise physiologist Anthony Carey presents a breakthrough whole-body approach to pain relief that will help your body function and heal the way it was designed to.

The Pain-Free Program shows you how to assess and treat the underlying cause of your pain rather than trying to simply fix your symptom area alone. Carey provides an individualized program for your specific body form, complete with customized exercise routines. This prescriptive guide:
* Addresses the full range of pain sources, outlining the typical "hot zones" where pain tends to occur and why
* Presents customized programs based on 6 major body forms identified by the author
* Features over 100 photographs and illustrations that demonstrate appropriate exercise positions, techniques, and modifications
* Reveals how you can prevent future injuries


The Pain-Free Program gives you the tools you need to get rid of the pain for good--and stay healthy for the rest of your life.
Acknowledgments.
Introduction.
Part One: How Our Body Talks to Us.
1. The Path to Pain.
2. A New Perspective.
3. Picture Perfect.
4. Breakdown of the Mechanical Miracle—You!
5. The Physical Laws of Our Bodies.
6. Function First, Everything Else Follows.
7. Form Follows Function.
Part Two: Regaining Control.
8. Form 1 Exercises.
9. Form 2 Exercises.
10. Form 3 Exercises.
11. Form 4 Exercises.
12. Form 5 Exercises.
13. Form 6 Exercises.
14. The "Graduate" Program.
Index.