The Passion Plan at Work: Building a Passion-Driven Organization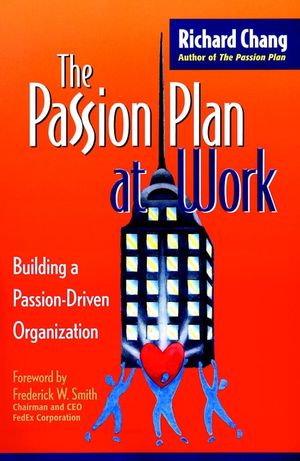 The Passion Plan at Work: Building a Passion-Driven Organization
ISBN: 978-0-787-95902-9 February 2002 Jossey-Bass 304 Pages
Description
In his best-selling book, The Passion Plan, Richard Chang showed individuals how to discover their passion and turn it into personal and professional fulfillment. Now, in The Passion Plan at Work he shows how to bring passion into the workplace--and turn good companies into great ones. Adapting his seven-step model for individuals to an organizational perspective, Chang explains how passion can provide direction and improve performance at all levels of a company. Carefully leading readers through his do-it-yourself process, Chang provides specific guidelines for creating an action plan that galvanizes an organization around passion. Along the way he provides practical tools--questionnaires, worksheets, and checklists--to help assess an organization's Passion Profile and make passion a big part of your company's ongoing success.
Introduction: Bringing Passion into the Organization.

Why Passion Works in Organizations: A Timeless Source for Timely Change.

From Passion to Profit: A Model for Organizational Success.

Step 1: Start from the Heart: Passion as the Foundation of the Organization.

Step 2: Discovering Your Passion: Uncovering the Forces That Will Drive the Organization's Success.

Step 3: Clarify Your Purpose: Channeling Organizational Passion toward a Specific End.

Step 4: Define Your Action Plan: Planning for Passion-Inspired Change and Growth in the Organization.

Step 5: Perform with Passion: Translating Passion into Performance in the Office and the Marketplace.

Step 6: Spread Your Excitement: Sparking Commitment and Enthusiasm in Employees and Customers.

Step 7: Stay the Course: Keeping the Organization Centered on Passion.

Profit with a Capital "P": New Definitions for a New Millennium.
The Passion Plan at Work gets down to the essentials of what it takes to succeed in today's business world. Richard Chang's philosophies are such a wonderful inspiration both in and out of the workplace! (Ken Blanchard, coauthor of The One Minute Manager and Gung Ho!)

As human beings, we are significantly more influenced by the feelings and emotions of our heart than we realize (or are willing to admit). Ironically, it is through embracing these powerful passions within that we can ultimately unleash our true potential as individuals and as organizations. Richard Chang's The Passion Plan at Work superbly teaches this principle. (Stephen R. Covey, author of the No. 1 best-seller, The 7-Habits of Highly Effective People)

Richard Chang does it again! He takes a critical and hard-to-define concept and makes it understandable and doable! All who wish to motivate and keep the talent on their teams should read this book. (Beverly Kaye, president, Career Systems International, coauthor, Love Em or Lose Em: Getting Good People to Stay)

The Passion Plan at Work is the fuel for quality. Richard Chang proves it can be learned. A must-read book for serious organizations in the pursuit of quality and excellence. (Horst H. Schulze, president and chief operating officer, The Ritz-Carlton Hotel Company, L.L.C.)

Passion transforms our life's work from a job into a worthy pursuit that truly makes a difference. With advice that is both inspirational and practical, The Passion Plan at Work shows how to lead this kind of transformation through a whole organization. (Ralph W. Shrader, chairman and chief executive officer, Booz-Allen & Hamilton, Inc.)