The Patterns of Architecture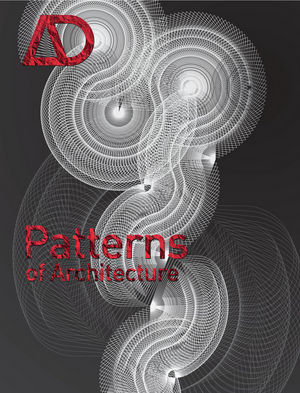 The Patterns of Architecture
ISBN: 978-0-470-69959-1 December 2009 144 Pages
Description
Pattern-making is ubiquitous in both the natural and manmade world. The human propensity for pattern recognition and fabrication is innate. Encompassing the historical, vernacular and parametric, this title explores the creation, materialisation and theorisation of some of the world's most significant and spectacularly patterned spaces. It investigates how interiors, buildings, cities and landscapes are patterned through design, production and manufacturing, use, time, accident and perception. It also brings into focus how contemporary advanced spatial practices and CAD/CAM are now pushing patterns to encompass a greater range of structural, programmatic, aesthetic and material effects and properties. Extending patterns far beyond the surface notion of style and decoration, Patterns of Architecture assesses how and why the deployment of patterns is shaping the future of architecture.
Analysed through a multidisciplinary and international series of essays and designs from architects, engineers, academics, researchers and expert professionals in the field. 
Key contributors include: Hanif Kara, Patrik Schumacher and Alejandro Zaera-Polo.
Editorial (
Helen Castle
).
Introduction.
Prologue for a History, Theory and Future of Patterns of Architecture and Spatial Design (Mark Garcia).
Patterns, Fabrics, Prototypes, Tessellations (Alejandro Zaera-Polo).
Parametric Patterns (Patrik Schumacher).
Relentless Patterns: The Immersive Interior (Mark Taylor).
New Patterns in Urban Design (Brian McGrath and Victoria Marshall).
Tracing Change: Patterns in Landscape Architecture (Simon Swaffield).
Geometry and New and Future Spatial Patterns (Helmut Pottmann).
Reductive Engineering Patterns: An Interview with Hanif Kara (Mark Garcia).
Biomimetic Patterns in Architectural Design (Julian Vincent).
Evolving Patterns: Correlated Systems of Interaction (Theodore Spyropoulos).
Patterns in Performance-Oriented Design: An Approach towards Pattern Recognition, Generation and Instrumentalisation (Michael Hensel and Achim Menges).
Pattern Deposition: From Scripts to Applications (Mike Silver).
Psychology and Perception of Patterns in Architecture (Patricia A Rodemann).
Practice Profile.
SAI Consultants (Brian McGrath).
Interior Eye.
Hopkins Architects' Kroon Hall, Yale University (Jayne Merkel).
Building Profile.
Norfolk Park Green Homes, Sheffield (David Littlefield).
Unit Factor.
Head Banging: Engineered Neutrality + the Parametric Ceiling (Francesca Hughes).
Spiller's Bits.
Basking in a World of Your Own Making (Neil Spiller).
Yeang's Eco-Files.
Designing for Disassembly (DfD) (Elma Durmisevic and Ken Yeang).
Underscape.
Futuristic Retail Spaces (Valentina Croci).
McLean's Nuggets (Will McLean).