The People's Home?: Social Rented Housing in Europe and America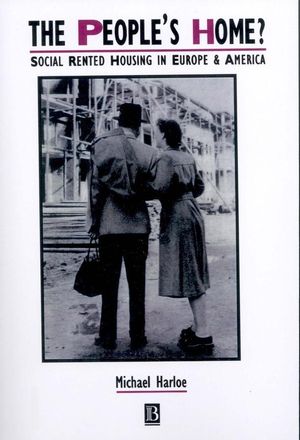 The People's Home?: Social Rented Housing in Europe and America
ISBN: 978-1-444-39940-0 August 2011 Wiley-Blackwell 496 Pages
Description
The People's Home is a magisterial examination of the development of social rented housing over the last hundred years in six advanced capitalist countries - Britain, France, Germany, the Netherlands, Denmark and the USA.
Table of contents
Preface.
Introduction: Social Housing and Welfare Capitalism.
1. Social Housing and the `Social Question': Housing Reform before 1914.
2. The Temporary Solution: Social Housing after the Great War.
3. Social Housing in the Depression.
4. The Golden Age: Social Housing in an Era of Reconstruction and Growth.
5. Residualism Revived: Social Housing in the Contemporary Era.
6. Social Housing and Theories of Social Policy.
Notes.
Bibliography.
Index.
Reviews
"This book presents the most authoritative comparative account of the origins of social rented housing and its subsequent development. By setting housing development. By setting housing developments in the context of historical changes in economies, politics and the development of the welfare state, it provides an important contribution to key debates in housing and social policy. The result is a text which is likely to be a key reference for those seeking to analyse and understand the housing situation and influences on its change." Alan Murie, Heriot-Watt University "Michael Harloe's review of social rented housing in six countries draws on research extending over 20 years. It will be welcomed by all students of housing and social policies." David Donnison, University of Glasgow "This book deserves to be acclaimed on at least two counts. It offers a penetrating explanation and not just a descriptive account of the developments of social rented housing in capitalist countries and therefore provides a much needed-basis for the evaluation, or introduction of new policies. Its coverage of international evidence is without peer, and it will be a source of inspiration to scholars and housing directorates for many years to come.
But the book is also a major sociological contribution to the understanding of social policy in general. Housing has always been the odd man out in the apparatus of the national welfare state and has not always been given sufficient priority in accounts of social change. Michael Harloe places housing at the centre of public and scientific attention and this is bound to change a lot of ideas about the present welfare state. With the international breadth of his approach Michael Harloe shows what sociologists can do for the understanding of social policy - and perhaps therefore lay the basis for the construction of an international welfare state.
Covering a wide range of international evidence the book is a tightly controlled theoretical exposition of social rented housing within general social policy. It is a formidable achievement." Peter Townsend, University of Bristol "This book is the boldest comparative study of housing policies I have ever read, and of a kind we all were waiting for. Detailed first-hand findings fit remarkably well in broad, analytical perspectives. Michael Harloe offers us both an account and an epic of the welfare state in that field, its premises and promises, its fulfillments and shortcomings, its looming demise." Christian Topalov, Harvard University "This is the closest thing to a definitive study of social rented housing in advanced capitalist countries currently available, and I do not expect it to be superseded for many years to come." Environment and Planning B: Planning and Design
Features
* The definitive history and analysis of social rented housing in the twentieth century, exhaustively researched and theoretically sophisticated.