The Performance of Reading: An Essay in the Philosophy of Literature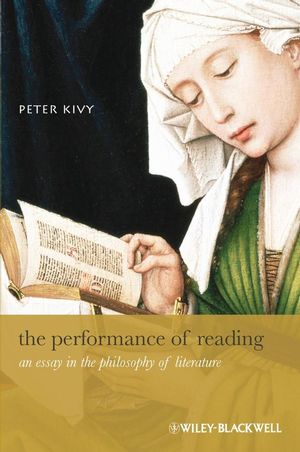 The Performance of Reading: An Essay in the Philosophy of Literature
ISBN: 978-0-470-77665-0 February 2008 Wiley-Blackwell 176 Pages
Description
The Performance of Reading
argues that there are distinct analogies between "silent" reading and artistic performance, and so fashions the new role of the reader as performer.


An original and insightful exploration of the act of reading by the leading scholar in the field.

Discusses the history of reading and the transitions from reading aloud to reading silently, and the changing role of literature as communal, active experience to a more private endeavor.
Table of contents
Preface.
The Performance of Reading.
Notes.
Bibliography.
Index.
Reviews
"[T]his book is a mine of intriguing speculations, ingenious argument, and stimulating suggestions, made even more attractive by Kivy's engaging style." (David Davies,
Journal of Aesthetics and Art Criticism
(vol. 66, issue 1)
"Kivy's is a highly welcome book … .One hopes that Kivy's highly original, thought-provoking book betokens a new wave of scholarship." (Eighteenth-Century Studies)
"As always, [Kivy's] style is clear, lively, and engaging. In The Performance of Reading he offers a bold new interpretation of what the reading of literature is. The thesis of this monograph is simple: reading literature is a performance--more precisely, a silent one. 'I read, therefore I perform' ... Readers have an 'experience' not different from the one the ancients had when Homer was performed. It is still as if a voice in one's head is telling a story. Overall, this work is a wonderful addition to the understanding of literature." (Choice)
What's New


An original and insightful exploration of the act of reading by the leading scholar in the field

Discusses the history of reading and the transitions from reading aloud to reading silently, and the changing role of literature as communal, active experience to a more private endeavor

Explores provocative analogies between "silent" reading of literature and artistic performance

Suggests a deeper understanding an appreciation of literary works through fashioning the reader as performer